While the concept of dual SIM is not new, it is more valuable than ever. Businesses are adjusting to the new reality where personal and work lives are tightly blended, in what is becoming a work from anywhere culture if you have good connectivity. I have been using a dual SIM on my phone for several years, and it makes even more sense now. In the work from anywhere reality, we often completely rely on our mobile phones for hot spot connectivity. Different carriers work better in certain areas than others, and having multiple carrier options that your phone likely already supports is helpful.
More Flexibility to Roam on Multiple SIMs
Most people are familiar with the traditional SIM card, a physical chip inserted inside your phone with your carrier's plan. An eSIM (embedded SIM) is a programmable version of the SIM card that is embedded into your phone and downloads your carrier's plan. You scan a QR code from your eSIM carrier, and your phone walks you through the rest.
In recent years, many popular phones have been designed to support dual SIM where one SIM is digital (eSIM), and the other is a physical hard SIM, or both are eSIM, as we find in the new iPhone 14.  This allows someone to switch between two mobile networks – and their respective coverage areas. The hard SIM is easy to change out, making it easy to roam on several carriers depending on cost and coverage. When I am outside my primary carrier's network and am roaming on a different carrier, I turn on the data of the roaming SIM and turn "Allow Cellular Data Switching" off, so I don't incur data roaming charges.
Separate Your Business and Personal Life
Before dual SIM, many professionals carried two devices. One was for personal use, and one was for business. This was cumbersome. Dual SIM allows you to use two different phone numbers on the same device. When a call comes in on my iPhone 13, it will show me whether it is on the primary number or the secondary with a P or an S, which lets me choose whether to answer a business call after hours. This streamlines communication and can create a clear separation between personal and business calls. If your company reimburses you for business phone expenses, the process even easier.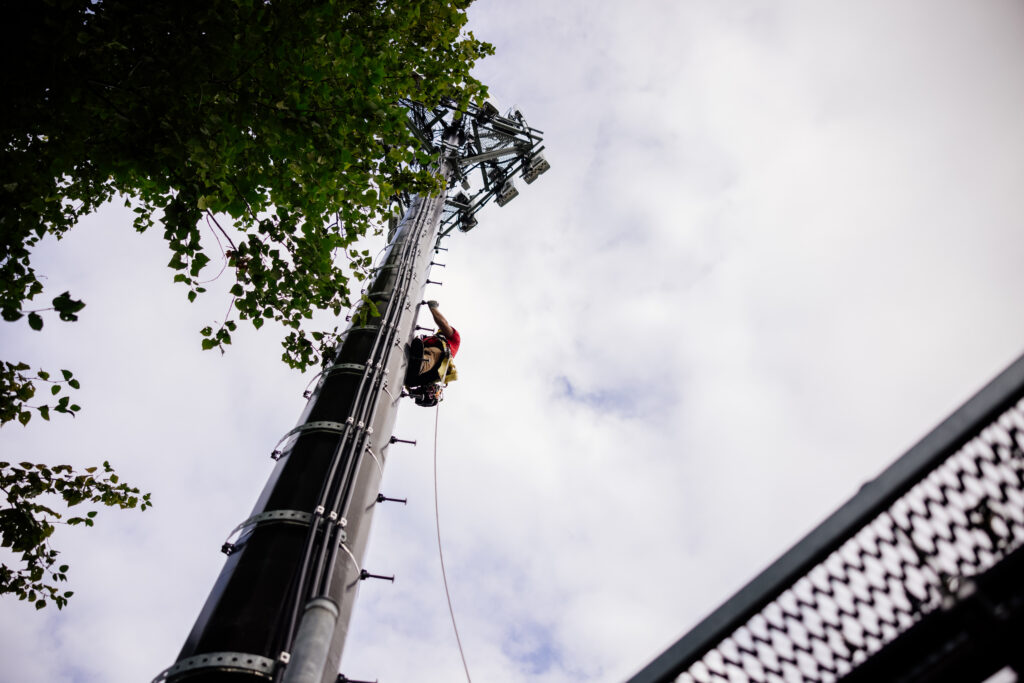 Protecting Availability of Critical Services in Rural Hospitals and Clinics
Like most carriers, GCI's network is compatible with dual SIM technology. GCI is by far the best choice while you are in Alaska with the most robust network covering >97% of Alaskan residents with LTE and approaching 50% with 5G. Additional buildouts for MatSu are on target for this summer, and the North Slope will benefit from 5G shortly after. With dual SIM from GCI, you can separate work and personal life and expand your coverage. This can also be important when you travel outside Alaska or internationally.
Through GCI's partnership with T-Mobile, your GCI wireless plan connects you to a robust 5G network in all 50 states. Your GCI mobile plan also includes roaming in Canada and Mexico, and has favorable rates worldwide. However, there will always be places where extra coverage matters. You fill in any coverage gaps by activating a second SIM with another carrier. You'll be covered wherever you go and can work from anywhere. No need for a second phone.
Strengthen Business Continuity
Using dual SIM improves business continuity with a built-in backup plan. When critical personnel, essential workers, or executive leaders are all on one network, and that network goes down, all communication is lost. This is even more of a concern in today's reality, where few people are physically in the same office or have a home phone. Dual SIM allows teams to seamlessly switch over to another carrier in the event of an outage.
How it Works
To leverage dual SIM, customers sign a contract with two different carriers or use prepaid SIM cards available in convenience stores or local mobile carriers. eSIM activation is as simple as scanning the QR code, which will auto-install the new carrier and phone number on your phone. I keep a Vodaphone card that I use mostly for navigation when I travel to Europe and charge it up to $50. When I want to conserve data, I switch the phone to airplane mode and maximize WiFi networks.
To get the most widespread coverage, you'll want to select a carrier that is not already hosted on your primary network. For GCI customers, we recommend setting up a dual SIM phone with AT&T and GCI to maximize your network in Alaska and worldwide. Most new phones are dual SIM capable, including newer iPhones (iPhone X and up) and Samsung. If you have a newer phone, you can contact your representative who can assist you with setting it up.
Now that many of us work from home (or anywhere), we need reliable mobile connectivity more than ever. Dual SIM can provide peace of mind, knowing that you have the best coverage possible, wherever your work life takes you and can help create some separation between work and personal.