A surprise announcement
Shirley Mae Springer Staten has been selected as the recipient of the GCI 5G Trailblazer Award — an award that recognizes an outstanding member of the Anchorage community who embodies the trailblazer spirit and demonstrates a commitment to making people feel more connected. GCI developed the program this year to celebrate the launch of GCI's 5G mobile service in Anchorage—cementing Anchorage's reputation as a leader in connectivity and home to the northernmost 5G service in the nation.
Staten was selected from among more than 40 candidates who were nominated for the prize: a $10,000 award for the recipient, a $10,000 donation to the nonprofit of their choice, and a brand new 5G-compatible phone from GCI. Nominations flooded in from across the community and highlighted amazing work being done to improve quality of life in Alaska's most populous city. Among the stories of commitment and compassion, Springer Staten's nominations stood out.
On a recent afternoon, a handful of people close to Shirley Mae Springer Staten gathered on a surprise Zoom call with me to tell Shirley that she had been selected as GCI's 5G Trailblazer, an award that came with $10,000 for her, $10,000 for the nonprofit of her choice and a brand new phone from GCI.
When Shirley joined the Zoom meeting, a meeting where she thought she and a colleague would be discussing a new Keys to Life program, she was surprised to find friends and strangers on the call.
Confusion turned to realization as she was named GCI's 5G Trailblazer. The announcement was met by tears, cheers and applause from participants. Shirley was nominated by three separate people for the award. All cited numerous examples of her dedication to helping others.
Shirley's story
It only took one summer working in Anchorage 40 years ago for Shirley Mae Springer Staten to fall in love with the city, the people and the mountains. That summer, Shirley made a deal with her son that they would try out Anchorage for a year. At the end of their first year, they packed the rest of their home in Inglewood, California, and moved to Anchorage for good. Shirley has been working to make Anchorage a better, more connected place ever since.
Shirley grew up in Georgia during the 50s and 60s. She believes being raised in a time and place with so much separation had a great impact on her life and her work, ultimately being a guiding force for her. Shirley has dedicated her life to bridging race, gender, class and cultural divides. She coordinated the Citywide Martin Luther King Jr. Celebration for many years, organized several emissary trips to Cuba, took a group of young people from Fairview to Ghana, and led United Nations NGO women's leadership conferences – just to name a few.
Hard work and a lasting impact
Shirley has a long and impressive resume to which she added executive director in 2015, when she started her own nonprofit called Keys to Life. In June of 2015, Shirley was woken up to the radio interview of a woman in jail. The woman was talking about her experience with the Carnegie Weill Music Institute and more specifically, the Lullaby Project. Shirley made a note and kept it for a couple of months before deciding to cold call Carnegie. After explaining who she was and where she was, the Lullaby Project coordinators invited her to New York for a three-day training session. As soon as she arrived home, she called Hiland Mountain Correctional Center, the State of Alaska's dedicated facility for housing female prisoners, and got to work.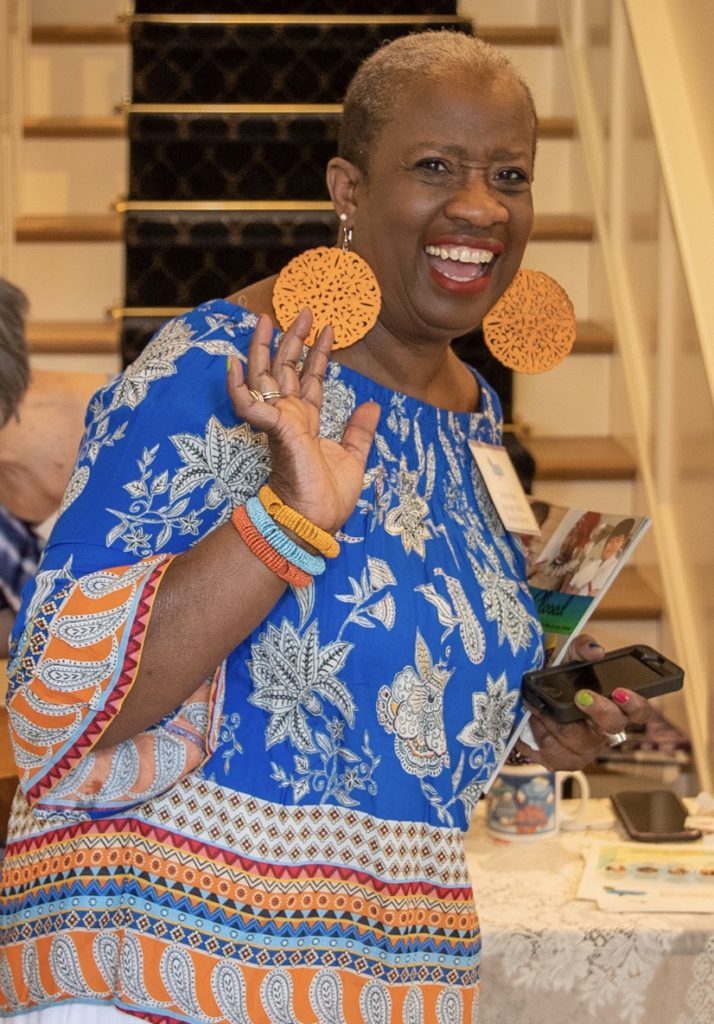 Today, the Lullaby Project pairs music mentors with incarcerated parents at Hiland Mountain Correctional Facility to create lullabies for their children in an effort to keep parent and child connected.
With this new project underway, Shirley realized she'd need a home and platform for the program. And so, Keys to Life was born. Since then it has grown to offer even more programs, all designed to do one thing, provide people with tools for the kinds of connection that give them the keys for a better life.
In addition to her work at Keys to Life, Shirley still works full time at Nine Star Education & Employment and is involved in many projects across Anchorage. Shirley is so dedicated to giving back that she often dreams of new projects and new ideas for ways to make the community better.
When we spoke to Shirley after she'd had a few days to process that she'd won the award she said, "I read one of the nominations and had a breakdown. I sat there and cried. I thought back to how I grew up, picking cotton with my grandma in Georgia. Back then we got $3 for every 100 of cotton. There where the railroad tracks divided us, that's where my passion for creating connections for people started. And now, being acknowledged for this work, it is such a great feeling. It gives me hope."
Shirley selected Keys to Life as the nonprofit for the $10,000 from GCI. Shirley has big plans for the future of the nonprofit. First, Keys to Life is planning to continue the Lullaby Project by reimagining how the program will work in the time of COVID-19. Keys to Life's other program, Eyes Closed, will also benefit from the funds. The third iteration of the project, called Freedom To Dream, will highlight the stories and dreams of children from McLaughlin Youth Center in Anchorage in an effort to support young men by helping them change the trajectory of their lives through dreaming and rewriting their own narrative.
GCI would like to extend a sincere thank you to everyone who nominated an Anchorage Trailblazer, and the nominees themselves. It was so heartwarming to read about all the amazing things, and people, in our community. A special thank you to Shirley, for being the first-ever GCI 5G Trailblazer and for her dedication and commitment to bringing Anchorage together as a more connected place.