Alaska is home to a diverse and dynamic network of nonprofit organizations that play a vital role in addressing the critical needs of communities across the state. Employees and volunteers at these nonprofits tirelessly dedicate themselves to various causes, from providing essential services for vulnerable populations to preserving the state's unique environment. They work diligently to tackle poverty, homelessness, health care, education, wildlife conservation, and cultural preservation. The immense scope of challenges faced by many people in Alaska highlights the pressing need for support from volunteers to ensure these nonprofits can continue their invaluable work.
Through our philanthropy arm, GCI Gives, we partner with more than 150 nonprofit organizations and support them through in-kind service donations, sponsorships, grants, and volunteer work. Volunteers play a crucial role in extending the reach of these organizations, providing essential assistance, and spreading the message of compassion and solidarity. Through collective efforts, these nonprofits transform lives, safeguard the environment, and foster a stronger, more resilient Alaska for generations to come.
As a company we recognize the importance of being active in the community. That's why one of our employee benefits is receiving 16 paid hours per year to volunteer. Two volunteers, Crystal Jackson and Yudelka Leclere shared their experiences working with organizations, including the National Alliance on Mental Illness in Juneau, the Unalaska Senior Center, and Unalaskans Against Sexual Assault and Family Violence.
Crystal Jackson's work in Juneau
NAMI Juneau is dedicated to improving the lives of individuals and families affected by mental health challenges. Its educational programs aim to raise awareness about mental health issues, reduce stigma, and promote early intervention. Additionally, NAMI Juneau is an active advocate to ensure that the voices of those with lived experiences are heard and valued.
Crystal Jackson moved to Juneau right at the onset of COVID-19. Upon moving, she says she felt isolated because all the normal opportunities for interacting with the community were gone. She shares that volunteering with NAMI Juneau has been one of the best ways to get involved with her community.
Crystal recalled one of her first events helping with NAMI, which was during November 2020. "It was my first November in Juneau, with its blustery blowing wind like sharp rain shooting us in the face. And they were doing an event supporting folks who were experiencing homelessness by handing out warm weather gear and giving them applications for housing and stuff like that. And I was just so excited to get out. I didn't care what the weather was. I thought, I want to meet some people, and we're all wearing double masks, but I just finally got to meet people for the first time."
Crystal highlighted NAMI Juneau's involvement in advocacy work and mentioned recent legislation regarding mental health education. She specifically points to House Bill 181, which focuses on mental health education for kindergarten through grade 12.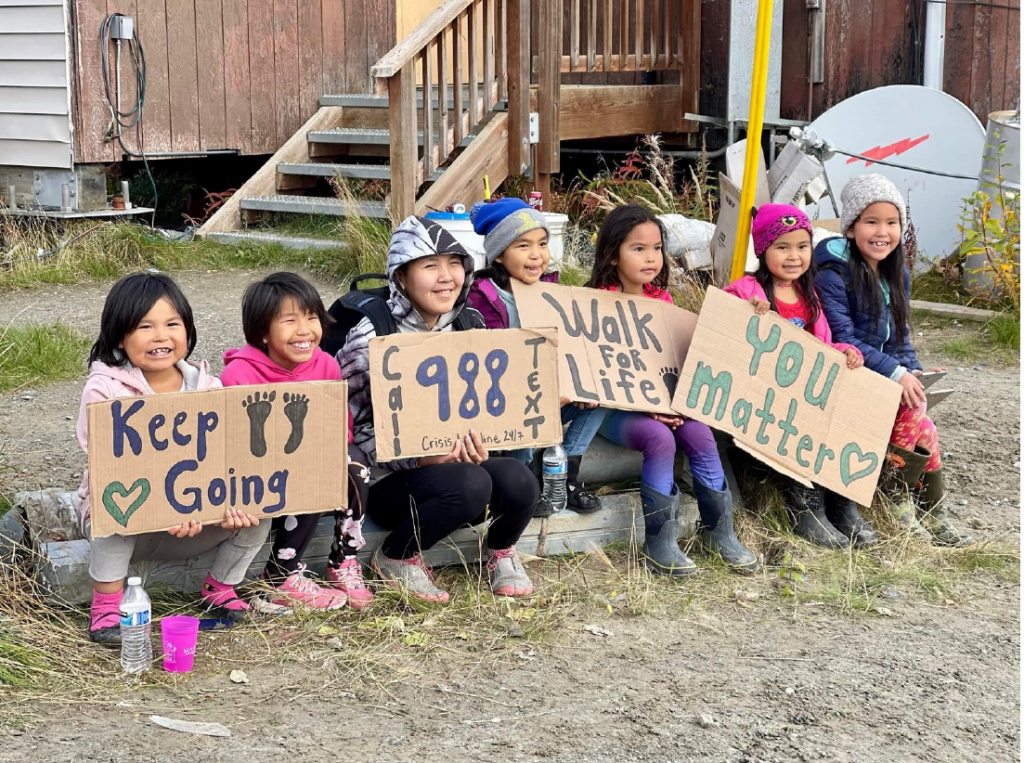 Saving lives and promoting wellness: the GCI Suicide Prevention Fund
"We're right here, and we're able to leverage being close to the capitol in Juneau and advocate for legislation," said Jackson. She emphasized the importance of teaching mental health awareness in schools to reduce the stigma around mental health.
Additionally, NAMI Juneau provides talks about suicide prevention to high school and middle school students. By fostering a supportive community and promoting mental health wellness, NAMI Juneau plays a pivotal role in enhancing the overall mental health landscape in Juneau and empowering individuals on their journey to a healthy lifestyle.
Yudelka's work in Unalaska
The Unalaska Senior Center is a vibrant and inclusive organization committed to serving the senior community in Unalaska. It offers an extensive range of programs and activities to promote holistic well-being. From fitness classes and art workshops to technology training and support groups, the center caters to diverse interests and needs. The Unalaska Senior Center prides itself on creating a warm and welcoming atmosphere where seniors can build meaningful connections and engage in various events and outings.
Based in Unalaska, Yudelka has worked for GCI since 2002. She wears many hats in her job as the sales and operations manager, but another hat she proudly wears is as a dedicated volunteer. Having been with GCI for more than 20 years, she has seen firsthand the impact of being able to volunteer in her community. She talks about GCI's motto, "we're your neighbors," and emphasizes the need to follow that through.
"We have to show that we really are your neighbors, and that means being out in the community. When people see our GCI logos on our shirts or jackets, it creates a picture in their mind of who GCI is — their neighbor."
Yudelka embodies the spirit of community engagement through her involvement at the Unalaska Senior Center. Her heartfelt sentiments capture the essence of her experience volunteering there.
"It's very rewarding and humbling. We sometimes put little surprises on their doors, like last Christmas they really wanted candy canes. We usually try not to give them candy, but they really wanted candy canes. It brings you so much joy when you see their faces, you can tell it really makes their day."
Yudelka also volunteers with Unalaskans Against Sexual Assault & Family Violence. USAFV is committed to creating a safer and more supportive environment and provides essential services to individuals and families affected by sexual assault and domestic violence. Its comprehensive programs include crisis intervention, counseling, support groups, and advocacy services to help survivors heal and rebuild their lives.
"Volunteering with USAFV has been eye-opening. I've seen how a caring community can really make a difference in the lives of survivors." With a compassionate team of professionals and volunteers, like Yudelka, the organization offers a lifeline to those in need, fostering resilience, empowerment, and a collective commitment to ending sexual assault and family violence in Unalaska. Alaska's nonprofit organizations, supported by volunteers like Crystal and Yudelka, stand as pillars of strength, addressing challenges and uplifting communities.
The stories of compassion, collaboration, and commitment exemplify the transformative potential of volunteers, creating a brighter, more resilient future for Alaska. As GCI employees continue to dedicate their time, skills, and hearts, they reinforce the belief that collective efforts can improve lives and communities.