What is it like to be a woman in gaming today? It will come as no surprise that the industry has struggled with diversity and inclusion. At the same time, there are more opportunities for women and girls in gaming than ever. This past summer, we spoke with Shayna Smith, an intern at the Alaska Esports Center at University of Alaska Fairbanks, about her experiences at the center. This month, I sat down with Shayna to talk gamer-to-gamer about what it's like being a girl who games today. Here are the highlights of our conversation:
When you first started gaming, did people tell you girls don't game?
I started gaming when I was really young, and at that time the only pushback I got was from my mom, who wanted me to play with dolls. The funny thing is, that's essentially what I was doing with my characters: playing with dolls. Making characters, selecting their outfits. I played City of Heroes, which my dad got me into, as well as Nintendo games and a Scooby-Doo game on CD. In elementary school, I met a boy who played World of Warcraft. That was my first time realizing other kids play games. That was also when I realized that girls don't game as much as boys.
How did you go about building community through gaming?
In high school, I realized I wanted to go on a raid and join a guild. That was a fun experience for a while. There was a team member who was really interested in training and helped me improve my skills. I got really good at being a mage and started focusing on Heroics and doing raids on that level. I ended up getting the "Heroic Mount" achievement before the guild leader. Later, one of my friends in the guild told me that the leader was so frustrated about me getting it before him he disbanded the guild because of it. That's one of the sad things about being a girl who games.
Do you know a lot of other female gamers?
Not as many in person. Most of them I meet in-game. I had two in my guild. Until I got to college at UAF, most of the girls I met didn't play the same games. I've learned about a lot of new video games through friends. Like, one of my best friends is into sports and plays official NBA games, so I learned about those from her.
Actually, I meet a lot more female gamers through the cosplay community, which is overall very supportive and inclusive. It definitely still has some problems to work out, but I've made a lot of friends and even found some role models through cosplay, and I think it's a great way to meet female gamers without the stress of a gaming situation.
Have you ever hidden your identity while gaming because you are a girl?
Yes. When I was first looking for a guild, I hid my age and gender right up until I was joining so it wouldn't impact their decision. For a long time, I wouldn't talk on mics or comms, because some guys will start saying stuff when they hear a girl's voice. Even now, I mostly use the written chat unless I'm playing with people I know and trust. When I do get those kinds of comments, I try to ignore them. In person, it's a little different, because it's harder for these guys to look you in the eye and say the stuff they say online.
Are you part of any organizations or groups for girls who game?
Recently, I've been much more involved in the*gameHERS, an organization that focuses on women, trans, and non-binary gamers. They ran the VALORANT tournament I participated in recently.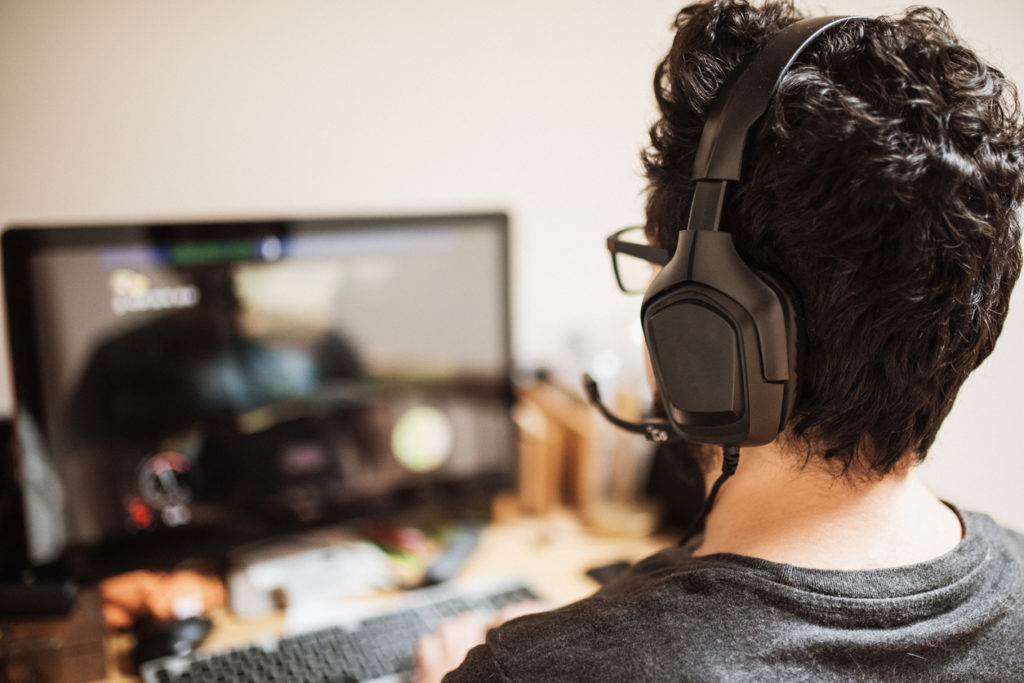 PCMag.com names GCI Alaska's top gaming ISP for 2022
Can you tell us more about that experience?
It was great! I went in with low expectations, because I'm not ranked very highly and not really as good at first-person shooters, but then I saw how highly ranked my teammates all were, and I realized as we played that we had a shot. We worked very well together and had a good mental game, which was key to our success. We ended up winning the tournament.
In your experience, are there a lot of girls on tournament teams?
Not really. Version1, the sponsor of my VALORANT tournament, has started promoting female tournament teams much more, and I think that's a positive trend. Overall, though, I would say that the tournament scene is very male. I see more women streaming on platforms like Twitch.
What is the UAF Esports Center doing to make the space more accessible for women and attract women to gaming?
We focus on making sure we have a comfortable, open space where everyone can come game and hang out. We also say that it doesn't matter what type of game you want to play; all games are welcome at the center. One girl said she thought she would feel weird just playing Minecraft next to all these massive multiplayer online games (MMOs), but that's not a problem. When you come in, you'll find people playing Minecraft, first person shooters, tabletop games, even Animal Crossing. We try to highlight the variety of games on the advertising we put up in dorms.
We have also done some the*gameHERS events. One of the girls I met at that event applied to work at the center and is now my coworker. When we're at the center, we try to talk to the girls who poke and scope the space out to make sure that they feel included. Now that we're part of an official the*gameHERS collegiate chapter, we hope to do even more events.
How do you navigate situations where you feel unsafe or are being harassed while gaming or at a tournament?
I'm the type of person who thinks a lot of online threats are empty, so I try to brush them off and think of them as the products of someone having a bad day. If a guy says something negative to me, my response is often, "I hope you feel better." But I also know that harassment can be very real and vert hard on your mental health, and it's important to have someone to talk to in those situations, whether it's a friend, parent, or teacher. It helps to have someone there who can say, "It's not you; it's them."
My advice to girls in these situations is to prioritize your mental health first. Stand up when you want to stand up and back off when you want to back off. A lot of time, people have this mindset that logging off or stepping away is letting the other person win, and that's not the case. It's okay to go offline or play another game. You have to let yourself reset. Don't feel like you have to just keep playing and putting up with harassment. Also: use report features, even if it feels like they don't do anything. I know that it's not great, but they're working on improving the process. In the meantime, gaming with friends can really improve the experience and safety.
A lighter question: What are your favorite things about the gaming community?
I love the sense of community I have here at UAF and being able to talk about games freely. On a personal level, it has really validated me in that I do know what I'm talking about and have lots of experience as a gamer. I've also enjoyed learning about new games from my friends over the last year. Gamers are so much fun.
What advice would you tell a young girl who wants to get into gaming? I would say just focus on finding what makes you happy. There may be people who tell you not to play this game because it's for boys or to play this one because it's for girls, but who's to say that girls can't like fighting suits or armor? We like anime. We like sports. So, why not esports? It's a great time to get into gaming as a girl. We have so many new opportunities.