You know the saying, "don't knock it 'til you try it"? The same can be said of your mobile service, but it'd sound more like, "don't knock it 'til you upgrade it." That's because many complaints about reliability, battery life, sluggish performance, and other mobile service frustrations can be solved with a simple phone upgrade.
We all know someone who proudly clings to their mobile device until it becomes a certifiable vintage accessory. After all, if it's not broken, why fix it? But if these folks just tried a newer device, the difference would be like going from an old black-and-white television to full HD. Upgrading to the latest phone is about much more than appearances. It's about arming yourself with the most efficient, productive, and compatible mobile device available.
Optimized for Network Compatibility
The best carriers are constantly upgrading their networks. For instance, GCI added coverage and capacity in the form of additional spectrum in Anchorage and surrounding cities. We have also upgraded our cell towers to feature advanced LTE features like 4×4 MIMO, carrier aggregation, LTE-LAA, and 256 QAM — all in support of our expanded 5G network. That's a lot of tech-speak for "faster, higher-capacity service." Just in April of 2022, a 3rd party drive test compared mobile provider speeds in the Anchorage area. GCI's superior 5G network came out on top with data speeds 2X faster than AT&T.
Additionally, customers with newer devices can take full advantage of Voice over LTE (VoLTE) and Wi-Fi Calling. VoLTE delivers faster call connections and clearer voice quality and has become the gold standard for voice connectivity across the industry. Wi-Fi Calling allows users to enjoy great service where the cellular network might not reach and is a great way to take advantage of GCI's top notch internet service. These features are available with most newer phones.
While all GCI wireless customers will see improvement in performance, those with the newest phones will enjoy the biggest difference.
For those who travel to the Lower 48, the same logic applies. Our out of state coverage partner, T-Mobile, has been making tremendous upgrades to their network. T-Mobile, America's largest, fastest and most reliable 5G network has 4x the 5G coverage of Verizon and their 5G speeds are nearly 2x faster than AT&T. Additionally, they have added low-band spectrum that covers rural areas like never before. This is while deploying some of the fastest, most capable network technology to urban regions. GCI customers with the latest devices experience these improvements when they travel throughout the US.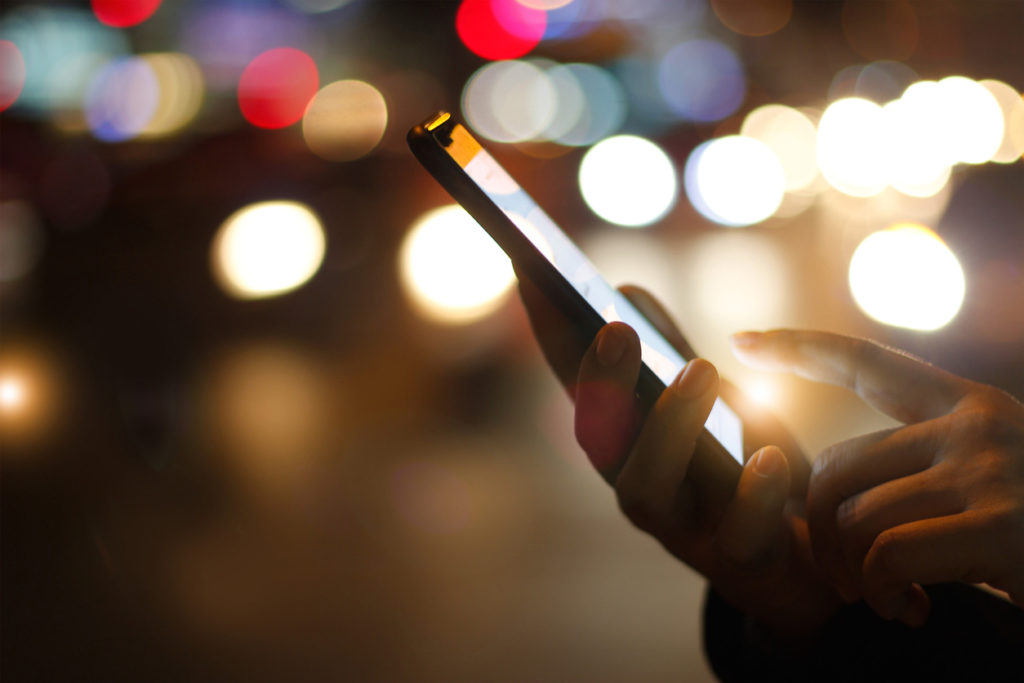 GCI mobile data speeds in Anchorage outpace other major cities
Powered by the Latest Operating Systems
The newest phones will always provide the best experience, as they use the latest technology. Access to this technology requires certain physical hardware but also software and security updates. Because phones without the newest operating system updates won't be eligible for these updates, this leaves them susceptible to security breaches.
As we learned from Apple in 2017, older operating systems eventually become outdated and unable to sustain the demands of newer updates. Whether that is the result of aging batteries or advances in technology, there will always be hardware that needs a refresh.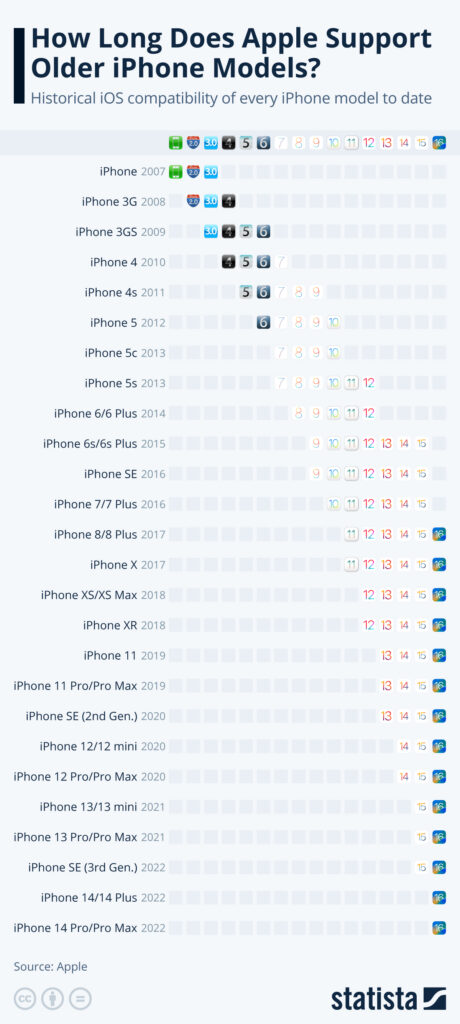 Apple iOS 16
Apple's newest operating system, iOS 16, will support older mobile devices back to 2017. So, if you're operating on an iPhone 7, SE, or 6, you will not be able to experience iOS 16 advancements. These include: a lock screen overhaul, focus improvements, the ability to edit messages, Maps advancements, health and safety features, optimized battery charging, and more.
Enterprise users can also benefit from managed Apple IDs for business. This gives employees access to services like iCloud Notes, and single sign-on extension which enables users to easily log into apps and websites using the security of Face ID and Touch ID.
Android 12
Android 12 is the latest operating system available to newer Android devices. The most notable difference, Android 12's user interface has a sleek, new look. Android 12 includes several customization options that gives users more control of the look of their device, a heavier focus on performance and privacy than previous iterations, and a longer battery life. Some privacy advancements include, an indicator clearly showing you when your camera or microphone is in use, the ability to grant apps your approximate location (not exact), and a Privacy Dashboard that's states how often apps are using your location, microphone, or camera over.
On Par with Technology Advancements
You may be able to hold off on purchasing a new device for a few generations of phone upgrades, but it's unlikely you'll last long before you feel the effects. Each time mobile technology makes a leap, the devices follow. The evolution of wireless communication has gone from 1G, an analog network used exclusively for voice calls; to 2G, a digital technology that introduced text messaging; to 3G, a faster network with increased capacity that introduced us to mobile internet; then to 4G, an even faster network that changed mobile communication by paving the way for the app economy; and now 5G is breaking ground with unprecedented improvements in speed, latency and connectivity.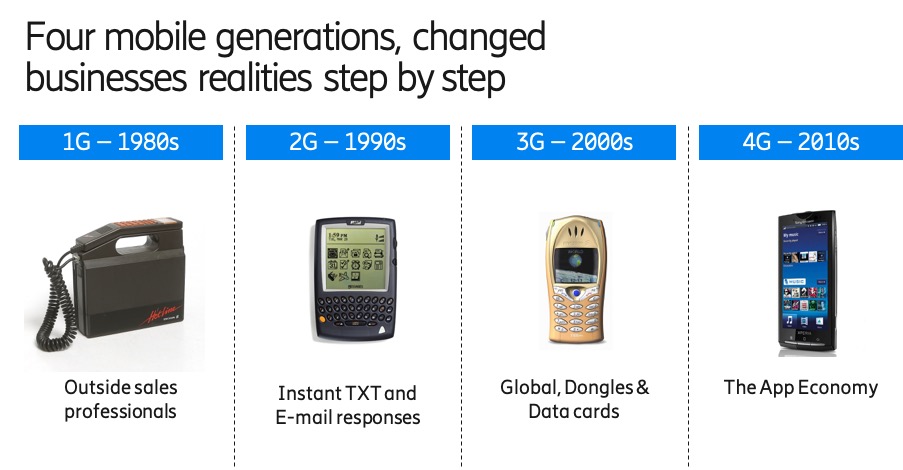 As with the generations of mobile technology that came before it, customers will need a 5G-compatible phone to experience 5G. 5G users will operate at noticeably faster speeds than LTE. They'll also be first adopters of the cutting-edge technology and applications that are being developed for 5G networks. But you don't need the newest phone to experience network improvements. The newer your LTE device is, the more difference you'll notice in our upgraded service. And that's before we even start talking about 5G!
Is it Time for an Upgrade?
This isn't to say that you should upgrade your phone every year. Customers who buy an iPhone 14 or Samsung S23 now should see improvements and benefits over the next few years. But if your phone starts to feel sluggish, or you aren't getting the same level of service as your colleagues on their new phones…Now you'll know it's because your phone's software just can't keep up. As we always tell our kids: it's what's on the inside that counts.
This article was originally written in 2019, and has been updated as of March, 2023 to reflect current technology.