We all know someone who proudly holds on to their mobile device until it becomes a certifiable vintage accessory. The common justification is that if it's not broken, why fix it? But if these users spent just one day on a newer device, they'd answer this question for themselves.
Over Thanksgiving, I discovered my father is still happily operating on his iPhone 5. He thinks that because he kept in good condition, it works just as well as the day he bought it. But that isn't true. Since my father only uses his phone for voice calls, he isn't aware of how far behind the technology is.
Upgrading to the latest phone is about much more than appearances. It's about equipping yourself with the most efficient, productive, and compatible mobile device available.
Optimized for Network Compatibility
The best carriers are constantly upgrading their networks. For instance, GCI is in the process of adding coverage and capacity in the form of additional spectrum in Anchorage. We are also upgrading our cell towers to feature advanced LTE features like 4×4 MIMO, carrier aggregation, LTE-LAA, and 256 QAM. All on our aggressive path to 5G. That's a lot of tech-speak for "faster, higher-capacity service."
While all GCI wireless customers will see improvement in performance, those with the newest phones will enjoy the biggest difference.
For those who travel to the Lower 48, the same logic applies. Our roaming partner, T-Mobile, has been making tremendous upgrades to their network. They have added low-band spectrum that covers rural areas like never before. This is while deploying some of the fastest, most capable network technology to urban regions. GCI customers with the latest devices will be able to experience these improvements when they travel south of the Canadian border.
Powered by the Latest Operating Systems
The newest phones will always provide the best experience, as they use the latest technology. Access to this technology requires certain physical hardware but also software and security updates. Because phones without the newest operating system updates won't be eligible, this leaves them susceptible to security breaches.
As we learned from Apple in 2017, older operating systems eventually become outdated and unable to sustain the demands of newer updates. Whether that is the result of aging batteries or advances in technology, there will always be hardware that needs a refresh.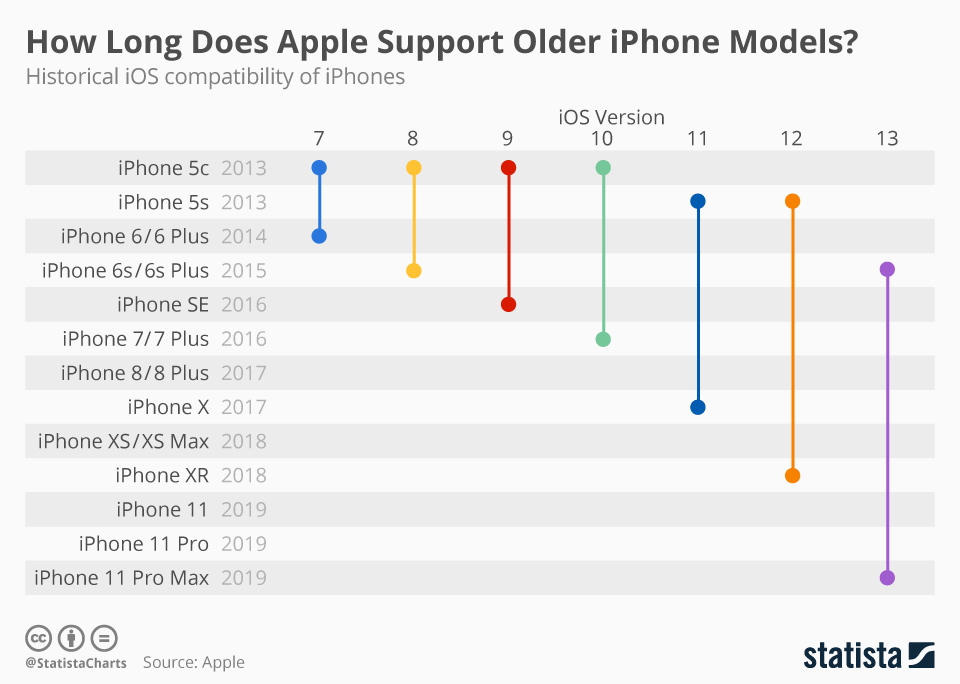 Apple's newest operating system, iOS 13, will support older mobile devices back to 2015. So, if you're operating on an iPhone 5 or 6, you will not be able to experience iOS 13 advancements. These include Dark Mode, Photos and camera upgrades, enhanced privacy and security, faster app launch abilities, optimized battery charging, and more.
Business users benefit, too.
Enterprise-specific iOS 13 updates include data separation for bring-your-own-device, maintains user privacy, keeping corporate data protected.
Enterprise users will also benefit from managed Apple IDs for business. This will give employees access to services like iCloud Notes, and single sign-on extension. These enable users to easily log in to apps and websites using the security of Face ID and Touch ID.
Ever considered an Android?
Android 10 is the newest operating system for Samsung devices. The technology is right on par with the competition. And, its new capabilities include some great features. These include, Dark theme, Smart Reply, reimagined privacy controls that allow you to opt out of ad retargeting, personalization, security updates, and adaptive battery improvements, and more.
Android 10 features include Focus mode, which allows you to turn off certain apps and notifications to minimize distractions. These are designed for enterprise users. Additionally, improved provisioning tools for work profiles; the removal of device admin for enterprise purposes. This enables more private and secure offerings; and a separate input method for work and personal profiles.
On Par with Technology Advancements
You may be able to hold off on purchasing a new device for a few generations of phone upgrades, but it's unlikely you'll last long. Each time mobile technology makes a leap, the devices follow. The evolution of wireless communication has gone from 1G, an analog network used exclusively for voice calls; to 2G, a digital technology that introduced text messaging; to 3G, a faster network with increased capacity that introduced us to mobile internet; then to 4G, an even faster network that changed mobile communication by paving the way for the app economy; and now 5G is making its debut as an enabler of yet-unimagined use cases with unprecedented improvements in speed, latency and connectivity.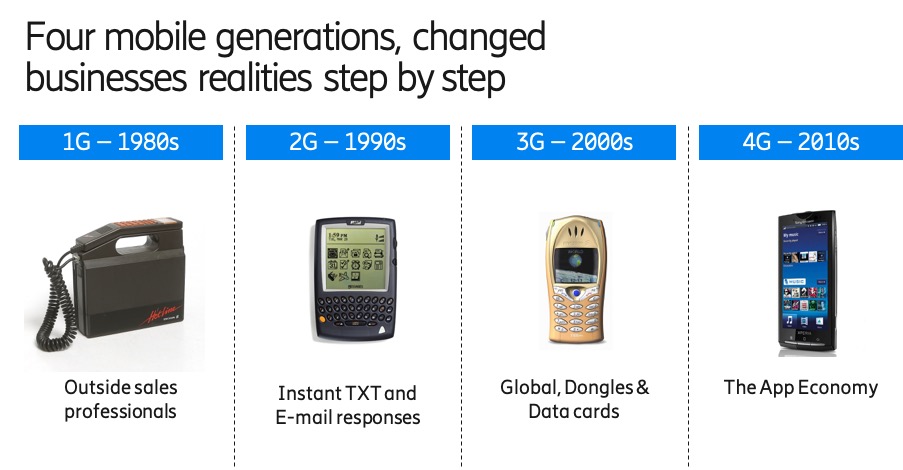 As with the generations of mobile technology that came before it, customers will need a 5G-compatible phone to experience 5G. 5G users will operate at noticeably faster speeds than LTE. They'll also be first adopters of the cutting-edge technology and applications that are being developed for 5G networks. But you don't need the newest phone to experience network improvements. The newer your LTE device is, the more difference you'll notice in our upgraded service. And that's before we even start talking about 5G!
Is it Time for an Upgrade?
This isn't to say that you should upgrade your phone every year. Customers who buy an iPhone 11 or Samsung Galaxy 10 series phone now should see improvements and benefits over the next few years. But if your phone starts to feel sluggish, or you aren't getting the same level of service as your colleagues on their new phones… Now you'll know it's because your phone's software just can't keep up. Remember: It's what's on the inside that counts.