Alaska's Aleutian Islands are home to many global businesses in transportation, fishing, and other industries. However, due to a lack of terrestrial connectivity infrastructure, businesses operating in the area have to find creative solutions to allow them to operate over satellite with high latency and slow speeds. To fix this, GCI launched an ambitious $58 million project to deliver high-speed connectivity to six communities in the Aleutians. The GCI Alaska United (AU) Aleutians Fiber Project is set to lay fiber in Dutch Harbor in the next two years. It kicks off this month with an undersea survey.
During a recent webinar I spoke with several businesses about the challenges of operating in the Aleutians today and how AU Aleutians fiber will empower their operations in the future.
Remote Access & Monitoring
One of our panelists, Joe Guptill, Director of IT Operations from American Seafood and Kloosterboer (a cold storage facility in Dutch Harbor), spoke about some of the challenges businesses face today and how fiber will help. Fiber will enable better communication technologies for employees to stay in touch with each other, family, friends and onboard telemedicine solutions.
For Kloosterboer, which stores fish caught in the Bering Sea, having remote access to the facility is critical. Fiber will give the IT team access to quicker monitoring and analysis, and the ability to exchange more data. For American Seafood, which operates six fishing vessels in the Bering Sea and the North Pacific Ocean, fiber will improve remote access to vessel systems. Practically speaking, this means support and troubleshooting will happen in minutes instead of hours.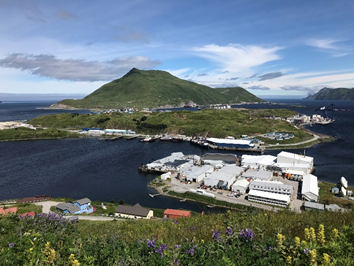 GCI is bridging the digital divide in Alaska's Aleutian communities
Reliability & Business Continuity
Matson is a transportation services company that operates in three ports in Alaska, including Anchorage, Kodiak and Dutch Harbor. Business operations in Dutch Harbor are different than the other two locations. This is because the high latency satellite connection forces manual workarounds. The Aleutians have unpredictable and harsh weather conditions, which can cause satellite outages. Because of this, most businesses have manual backup plans. Fiber will offer a level of unprecedented reliability, making manual workarounds much less common.
Upgrade Legacy Systems
Mark Hughes, Director of Operations from North Pacific Fuels, said that the company had to develop an entire legacy accounting system to operate in Dutch Harbor over satellite. It often takes up to a minute to process a credit card transition at fuel stations because of the connectivity. When fiber was turned up in Kodiak, North Pacific Fuels was able to convert its legacy accounting system at its Kodiak location, and it expects to convert its system in Unalaska once the Aleutians are connected. Fiber connectivity will also help the company better leverage Microsoft Teams in Unalaska, where video transmissions and content are currently delayed, if accessible at all.
Fiber will bring the ability to upgrade business services, better continuity of operations and much more. With enhanced connectivity enabled by sub-sea fiber, a world of new technologies and capabilities will open up. The medical clinic will have the ability to use digital diagnostics and significantly reduce unnecessary medivacs. Employers will be able to recruit and retain workers who rely on high-speed internet for their work, entertainment and communication with family. We are excited to see what becomes possible for businesses and the surrounding communities in two years, after this service is turned up!