How do you translate a millennia-old story into a contemporary video game format? That was one of the questions the production team had to answer while developing Never Alone. Last month, we spotlighted Never Alone and Tell Me Why, two games whose developers consulted with Alaska Native communities and artists in the development process. This month, we're pleased to share an exclusive Q&A with Amy Fredeen, Executive Vice President and CFO of Cook Inlet Tribal Council and Lead Cultural Ambassador for Never Alone. She sat down with us to chat about this extraordinary game and the process of bringing it to life.
What was your role in the game production?
As Lead Cultural Ambassador for Never Alone, my job was to identify people who ask the right questions and to bring the entire community into the making of the video game. During the making of the game, I helped answer some tough questions. For example, how do you portray death in a video game that's in alignment with Iñupiat values? What's appropriate and not appropriate to share in the game? How do you adapt a story that's been told for thousands of years into something like a video game?
How were traditional indigenous storytelling practices and traditions translated into a game format?
The first thing you need to know about Alaska Native stories is that they're short — often too short, on their own, for a full-length game. We weren't sure what story to use when we started this process. We sent the video game team a box of transcribed stories from all across Alaska before focusing on Iñupiat stories. Once we decided on the Kunuuksaayuka story, we prioritized working with the caretaker of the story, Minnie Gray, and her family. She helped us understand how we could weave in other elements of traditional stories to make the story of Never Alone long enough for a playable game.
Two of the most important things we did were to bring in a whole cadre of cultural ambassadors and to have an embedded writer with the video game team. Ishmael Hope (Tlingit and Iñupiat) was our writer. His role was interesting because it wasn't just about writing. He was there to help the game developers navigate how to blend the game's mechanics with traditional values. For instance, in an early version of the game demo, the spirits were called up by players. Ishmael immediately saw that this was a problem, because characters would not have that power in Alaska Native stories. Instead, the fox is able to work with the spirits, who reveal themselves in times of need.
In the Iñupiat culture, stories were often used not only as a way to tell history and share stories but as a way to pass on lessons. The storyteller would emphasize parts of the stories or add little bits and pieces for a community member who maybe needed to hear something. Minnie helped us understand that and authorized us to bring in different elements into the story.
How did the idea to make this game first come about?
We saw our kids playing video games, and we wanted to put our culture and our people into a new form for them to explore. My oldest son lost his hearing when he was about five or six, and video games were a way for him to interact with other kids on a level playing field. Without them, he wouldn't have gotten the same level of social interaction. That's how I know there's a power in video games if used right. Even games that are pure entertainment have value because people can build connections through them.
When we decided to make the game, we walked in with open hearts about where the process was going to take us. We also knew that we might meet resistance because of the format of the video game. When I met Minnie Gray, I worried she wouldn't give permission to use the story. She was in her early 80s and didn't speak fluent English. Her daughter was there to help translate, but I was nervous Minnie wouldn't want to take the story into a video game. When I visited her, she had all these great-grandkids running around her apartment, and she said, "Of course you should do this. This is how they're going to hear this story when I'm gone." That, to me, was the most fantastic thing.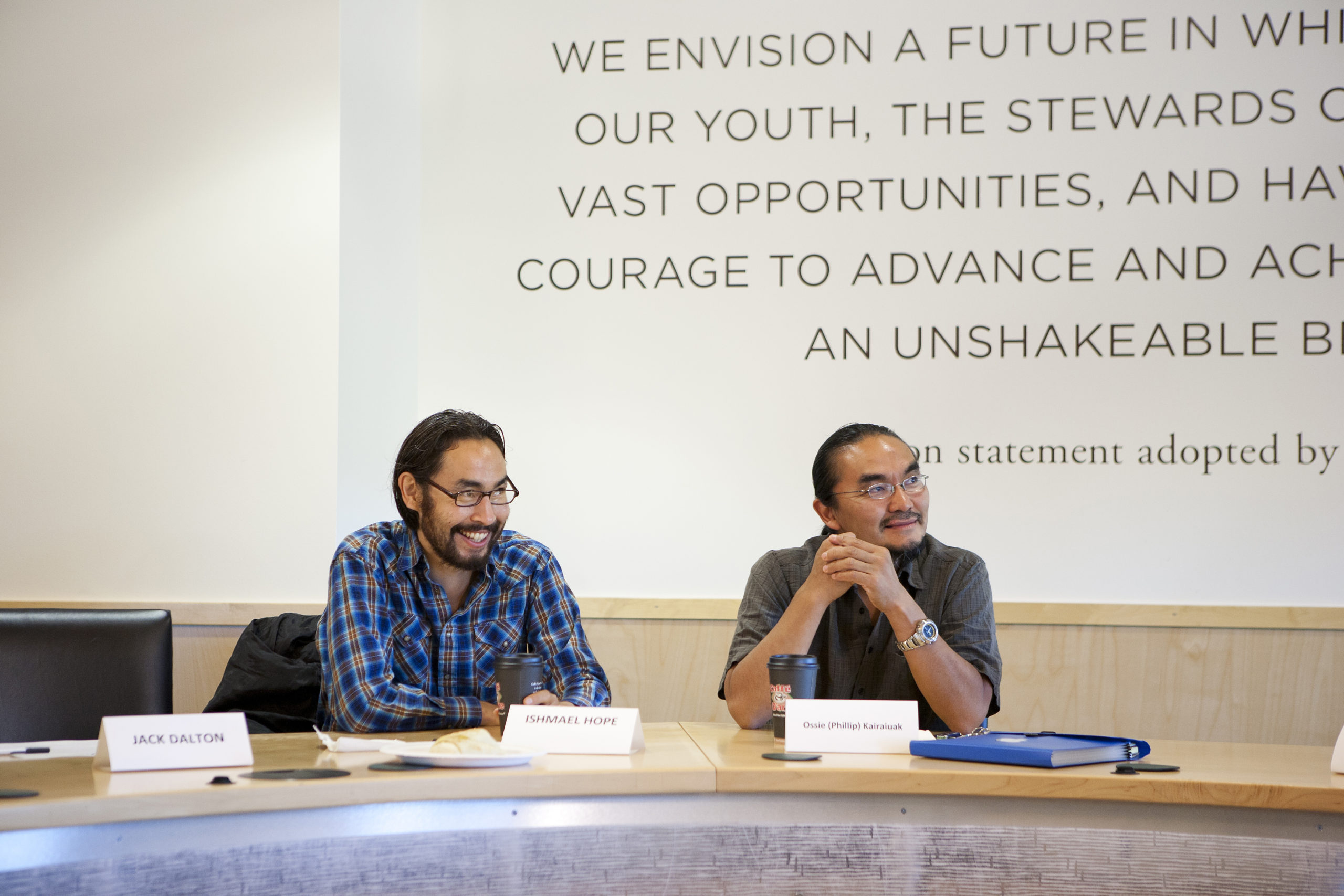 Alaska Natives Are Diversifying Gaming and Esports
Never Alone offers "unlockable insights" that provide additional information to players about Iñupiat history and culture. What was the logic behind these unlockable insights and what were you hoping to teach people with the game?
We didn't set out to create these insights. It was pure luck. In the development process, we shot footage of community members as reference material. About six months from launch, we realized we had more than 40 hours of footage to use. We thought the words of our community members were powerful and exciting, but we didn't want to stop gameplay, so we made it possible to unlock the insights, then watch them later.
Never Alone wasn't designed to be purely educational. However, after the game's launch, CITC created a curriculum based on Never Alone, leveraging those cultural insights. This curriculum includes lessons on interdependence and cooperation and has exercises for students to complete. You can download a copy here.
What was it like launching the game and what impact did it have on the community?
Before officially launching Never Alone, we had a soft launch party in Alaska on the first day of the 2014 Alaska Federation of Natives (AFN) convention in Anchorage. It was amazing to see because people from Utqiaġvik came together to celebrate the game. What I enjoyed most was seeing kids who did not know each other sit down next to each other and start playing in this cooperative game.
At launch, many schools embraced Never Alone even before we developed the curriculum. People were excited to have something in popular media for the kids, and our youth programmers were thrilled (CITC operates afterschool programs, culture clubs and technology clubs).
A few years after the launch of Never Alone, we hosted a "world build" with the idea that we would be co-designing the future of our communities in Alaska with our elders, youth, and community leadership. As part of that, we engaged with the youth interaction school program and asked what they wanted to see in the future. I expected they would want more technology, more internet access and stuff like that. To my surprise, they said, "We want more of things like Never Alone, and we want more time with our elders." What I loved about that was that not only did the kids like the game but they also liked having a connection they wouldn't have otherwise had in urban Anchorage.
What challenges or obstacles do Alaska Natives face in the gaming and esports community?
I think we put most of the barriers in our own way. When we first started, I thought, well, video games are risky. We didn't know what we were doing. How do we do this appropriately? And the larger worry: is the CITC board going to accept this? We knew that the younger board members were supportive, but I think what surprised us is our then chair and current chairman emeritus, Claire Swan, said, "Stop making excuses and go do it." I love that about our board. They remind us that Alaska Natives have been able to overcome huge challenges. Just because we live in modern times doesn't mean we stop pushing.
How can teams, organizations and game platforms foster a more diverse community?
There are a few ways, and I think having all types of avenues available is important. First, showing kids it's possible to make a game like this. If kids don't see it, they don't know that it can be done. There will always be those visionaries who come up with the ideas on their own, but it's a lot easier and a lot more inviting if they already know it's possible.
Second, if a community or an organization is thinking about making a game, whether it's an indigenous community or an underrepresented community, understanding the norms about making a game about the community is extremely important. What worked for the Iñupiat community may not necessarily be appropriate for other communities. We had to take the time to understand the protocol, work with the members of the Iñupiat community and respect their boundaries.
Third, the community must be open to learning about what goes into making a game, understanding it's going to be more of a give and take, as well as a time commitment. Implementing inclusive development processes extends the production timeline because you have to engage the community. For the Iñupiat, interdependence is ingrained in everything we do. It made development a two-and-a-half-year process. So, when communities embark on a major project like this, it's important for them to know it's risky. Not every game is going to be a home run, but the process is still rewarding.
Where do you see the future of gaming headed?
On a high level, I see the video game world becoming more collaborative. I think multiplayer games are really where players want to be, whether they're 12 or 30 years old. Understanding what types of games players are looking for is important, as well as how best to connect with that audience. I'm hopeful that the collaborative nature of gaming will mean that this industry changes faster than others. I also know more and more indigenous voices are coming into the video game world. One of the people I admire most is Elizabeth LaPensée, an award-winning game designer, writer, and artist. She was one of the people we talked to when we first started work on Never Alone so we could understand where she saw underrepresentation and how to make an impact. I also think the gaming industry is endeavoring to become more diverse and have more women in it.