How long have you been at GCI? Can you tell us a little more about your career and role in the company?
I started in 1996 with Prime Cable which was then acquired by GCI. Now, 25 years later, I'm the Senior Director of Sales & Operations.
I graduated from University of Alaska Anchorage with a degree in education. I didn't feel ready to teach right out of school, so I started with Alaska USA which led to Prime Cable. When I started at GCI, we were only doing cable and long distance. Crazy to see how much we've grown over the years!
I've held a lot of different positions in my time at GCI, but they've all helped me to understand the company more, which, in turn helps me mentor the team. I know where we've come from and where we're going.
You are the first chair of the new Diversity, Equity and Inclusion Council at GCI. Can you tell us more about GCI's DEI initiative?
When George Floyd was murdered in 2020, people were coming to me for direction: "What do we need to do? How do we handle this? Here's what I think we need to do."
Seeing people hurting emphasized the necessity of solutions needed to approach diverse situations with empathy. So, we developed a nomination-based council to address these kinds of questions at GCI. To me, DEI is about bringing a broad range of ideas and experiences from employees across the company. The team we have is so passionate. It's something that is really going to add value to the employees, the communities we serve and the company as a whole.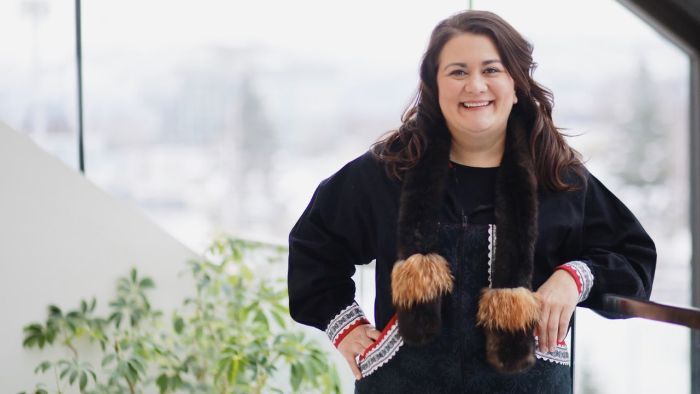 For GCI's Jenifer Nelson, bridging the digital divide in the Aleutians is personal
What is your vision for the DEI council?
As the chair of DEI, I'm committed to doing things to the best of my ability. Together we're developing a long-term, sustainable plan. We want DEI to be a part of GCI just like anything else. It should feel comfortable for everyone. Most importantly, I want people to come to work and feel that they can arrive as themselves.
If you could pick one highlight from your career, what would it be and why?
While I don't see many examples of people like me in leadership, I do picture myself there. And as a leader and mentor, I strive to help people see their possibilities, too.
I think people often discount mentoring, but that's my superpower. It's something I'd call out as the highlight of my career. I love finding who people are and making them the best they can be. And I love being along on their journey.
What advice would you give young women who are interested in your field?
Don't discount yourself! Know what value you bring to the table — know who you are first and what you want to do. Don't fear failing.
Is there a female leader, past or present, who inspires you?
My mentors in general are my mother, my father, and my grandmother. While my mother and grandmother are no longer physically here, their words are still with me.
They taught me I could do whatever I wanted if I put my mind to it. And patience. When I said I didn't see any Black people in leadership, my mother counseled me to be patient, but also told me to be that leader I wanted to see.