With boots on the ground, community meetings planned, and surveys and data analysis in progress, GCI's AU-Aleutians Fiber Project is well underway. Multi-million-dollar infrastructure projects like AU-Aleutians sprawl across hundreds of miles of challenging terrain and require a high degree of strategic planning and technical know-how. They are projects not just anyone can lead. Thankfully, GCI Vice President of Network Program Management Rebecca Markley is perfectly suited to lead this game-changing initiative.
With nearly 20 years of experience and the construction of GCI's TERRA network under her belt, Markley's portfolio is already impressive. If success and experience can be quantified by numbers, by the end of next year Markley will have led the construction of more than 4,100 miles of telecommunications infrastructure connecting 52,000 Alaskans in 90 communities. Her projects have traversed all types of terrain to reach the furthest corners of Alaska, crossing 233 rivers, 87 lakes, six mountain ranges, and soon will cover an 800+-mile swath of the Gulf of Alaska with GCI's AU-Aleutians Fiber Project.
Running from Kodiak along the south side of the Alaska Peninsula and the Aleutians to Unalaska, the project will deliver urban-level speed, service and reliability, for the first time, to the communities of Unalaska, King Cove, Sand Point, Akutan, Chignik Bay, and Larsen Bay. As project manager, Markley leads a team of experienced individuals to ensure the project's success. Not only is Markley responsible for navigating contracts and permitting, she's also meticulously ensuring every detail, from travel plans to community outreach, is aligned so the Aleutians Fiber Project stays on track. Markley says the most important thing when managing a project of this scope is to think outside the box and to build and rely on strong partnerships.
"I come from a background of team sports and it's always a team that wins the game, never an individual," Markley said. "The most important thing when you're working on a team is to not be afraid to be different. You must understand that we don't all think the same and every person's individual perspective brings value to the project. How I've implemented that in these major projects for GCI is by putting a big emphasis on our partnerships with contractors and communities."
Markley says she pushes her team to rely on partnerships. She says to be successful leading projects the size of TERRA and the Aleutians Fiber Project, you don't have to be the expert in everything, but you have to know how everything relates to making the project successful. Once you do that, identify and rely on partners who can be experts for you and help you understand those pieces.
When it comes to GCI closing the digital divide in the Aleutians, the team is facing some familiar challenges. Alaska is a huge state, and many rural regions are not accessible by road. It's nothing Markley hasn't faced before, and she is up for the task. Already, the team has mapped a route for the 813-mile subsea fiber and done an initial marine survey of the route to study the seafloor. Next, a follow-up survey will be conducted to sample what's beneath the seafloor.
Markley is also overseeing the team coordinating the logistics of building shelters for the fiber to be delivered at the exact same time that the fiber is being laid, while also contending with the fact that there are very few fiber builders and ships built to install fiber in the ocean. All of this combined with the fact that the time window for installation is small in Alaska — she's leading a carefully coordinated effort to make sure every detail is in place at the exact right time.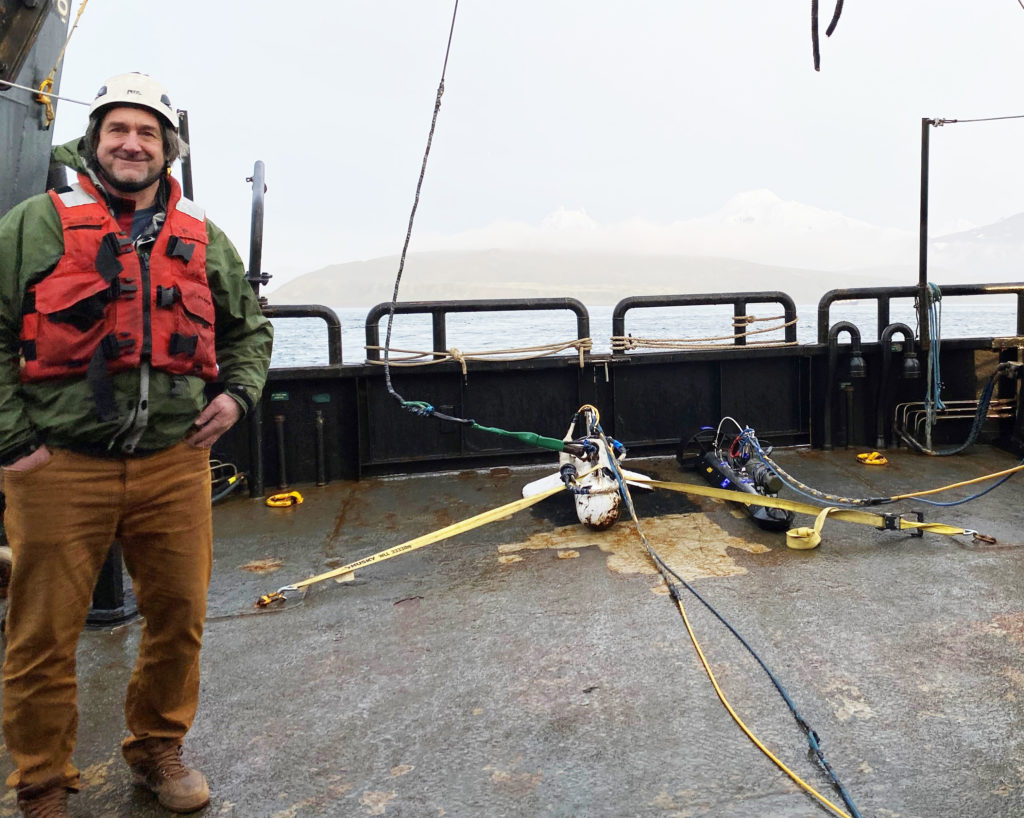 GCI submarine cable expert travels to Aleutian Islands for fiber project
Markley says she is always mindful of local communities' customs, culture and priorities when building out a project. In the case of the Aleutians Fiber project, GCI has retained cultural monitors to be involved for the duration of the project. Cultural monitors are archeologists who will be onsite in case any artifacts are found during the project — something Markley is familiar with. While building TERRA, a team uncovered artifacts in Kotzebue that were around 800 years old. The artifacts were collected, studied and are now, with Tribal permission, stored at the University of Alaska Fairbanks Museum of the North. GCI paid for the long-term curation and a website was developed to make the artifacts accessible to all.
The Aleutians Fiber Project is scheduled to activate service in Unalaska by late 2022. Gigabit speed, urban service and plans for consumer customers will change the lives of people living in the region. For more information about the project, visit www.gci.com/Aleutians.