GCI is proudly sponsoring the Alaska Travel Industry Association's Show Up for Alaska campaign because it's focused on lifting up Alaska-owned, travel and tourism businesses and rallying Alaskans to help other Alaskans. That is our mission at the core.
Each Wander AK Wednesday, you've seen us highlight tourism businesses across the state on Facebook, Instagram and Twitter. But more than just words on a screen, we want to inspire you to explore this summer — safely and socially distanced of course — and use those Alaska resident deals!
This week, we're taking a closer look at Anchorage, our headquarters and a city that needs no introduction to many of you. But when's the last time you took advantage of the "touristy" things in Anchorage? This is your summer to do it all — just be sure to wear your face mask. They're required here now.
Take the Alaska Zoo, for example. "When you're out in the wild, you don't always get to see animals the way you want to," said Alaska Zoo Executive Director Patrick Lampi. "This is an opportunity to really get up close."
All 95 of the zoo's animals — from bears to tigers — were orphaned or injured. "We're providing a home for these animals and educating people about their wild counterparts," Lampi said. That's why at GCI, we have a special partnership with the Alaska Zoo through GCI Gives, including our nearly 15-year sponsorship of the popular Polar Bear Camera. GCI was "instrumental" in helping with the distance education programs while the zoo was closed due to COVID-19 as well, Lampi said. "During the stay-at-home period, we were offering live interactive programs and virtual tours, plus we were doing a number of programs for school groups for free. We had over 7,000 people attend our virtual classes."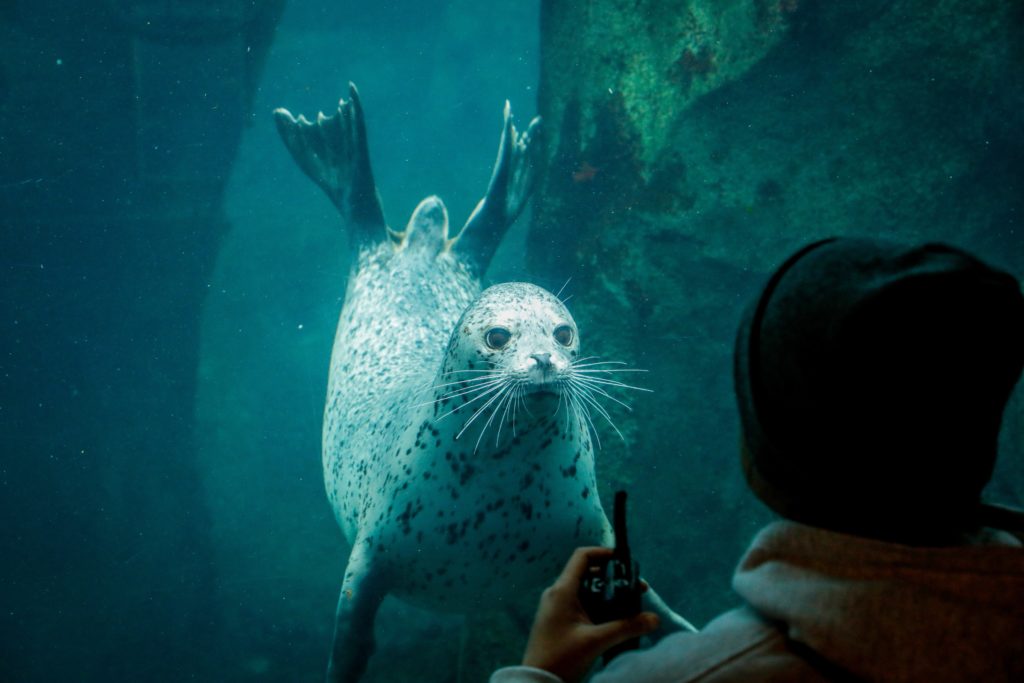 With the zoo re-opened, in-person programs are back in focus. Daily interactive Critter Chats are being held and private, small group animal encounters started on June 23 with online registration 48 hours in advance. Zoo Day camps are in session through the summer for kids ages 6-12. And in July, the zoo is holding a very important 38th birthday celebration for Jake, a Kodiak brown bear that was one of the first animals Lampi took care of when he started working at the zoo 34 years ago. Lampi lovingly calls him a "nice, mellow fellow."
Plan ahead if you want to participate in the Virtual Walk on the Wild Side Annual Zoo Fundraiser on Aug. 27. But whenever you go, keep an eye out for the zoo's newest resident, Honey, an adult female bear who arrived from Haines in early May. Buy your admission tickets online to minimize interactions (resident, military, children and senior citizen discounts apply) and then spread out across the zoo's 23-acre wooded, park-like campus to stay socially distanced during your visit.
But wait, there's plenty more to do in Anchorage and special offers to be found!
Fun places to explore:
Great places to eat:
Where to stay:
With standard rooms as low as $89 per night and complimentary breakfast, the Historic Anchorage Hotel spoils guests. Don't miss the chance to check out old photos of Anchorage in the public spaces and maybe spot a ghost.
Susitna Place B&B is perfect for those who want to be around fewer people. It offers just five rooms overlooking the Cook Inlet.
Just a block up from the Tony Knowles Coastal Trail, Copper Whale Inn's rooms also delivers Cook Inlet views in a historic house that survived the '64 earthquake. In-room iPads can be used to request housekeeping, contact the front desk and more.
This is just a taste of the opportunities in Anchorage and we know you'll get out and explore further. Just keep the local businesses in mind and lend your support, while prioritizing your health and safety. GCI is committed to being a good neighbor and empowering our local communities, because at the end of the day, we are more than just Alaska's technology leader. We are a company founded and operated by Alaskans.