As COVID-19 has unfolded around us over the last few months, a lot has changed both internally and externally. For many, that means cancelling our plans for the summer and rethinking social gatherings. For some Alaskan businesses, it means closing up shop and dwindling consumer purchases. One of the industries hit hardest by COVID-19 is tourism. Cruise lines were expected to bring 1.44 million visitors to Alaska this year but have since been completely cancelled. These cancellations coupled with travel restrictions has a trickle-down effect on hotels, restaurants, and gift shops that all rely on the annual visitors to Alaska to make up the revenue from many months of low traffic in the winter.
As Alaskans, we're fortunate to live in a state with wide open spaces and a small population. We can get outside and have enough room to socially distance while experiencing all the beauty that summer in Alaska has to offer us. Travel Alaska is calling on all of us to show up for our great state, for our neighbors, and for our local businesses. Many of the tourism businesses who are choosing to reopen this year are doing so with some great deals for Alaskans and it is our duty to take them up on these offers and get out and enjoy our state like never before. For instance, the River's Edge Resort in Fairbanks is offering a $99/night special for state residents and Get Lost Travel Vans is helping residents save $49/night with unlimited mileage. We know we can't make up the difference, but we might help businesses like these survive until next year, when we expect Alaska will be even more of a sought-out travel destination. As a proud supporter of Alaskan businesses and the great outdoors, here is what I am doing to explore my own backyard.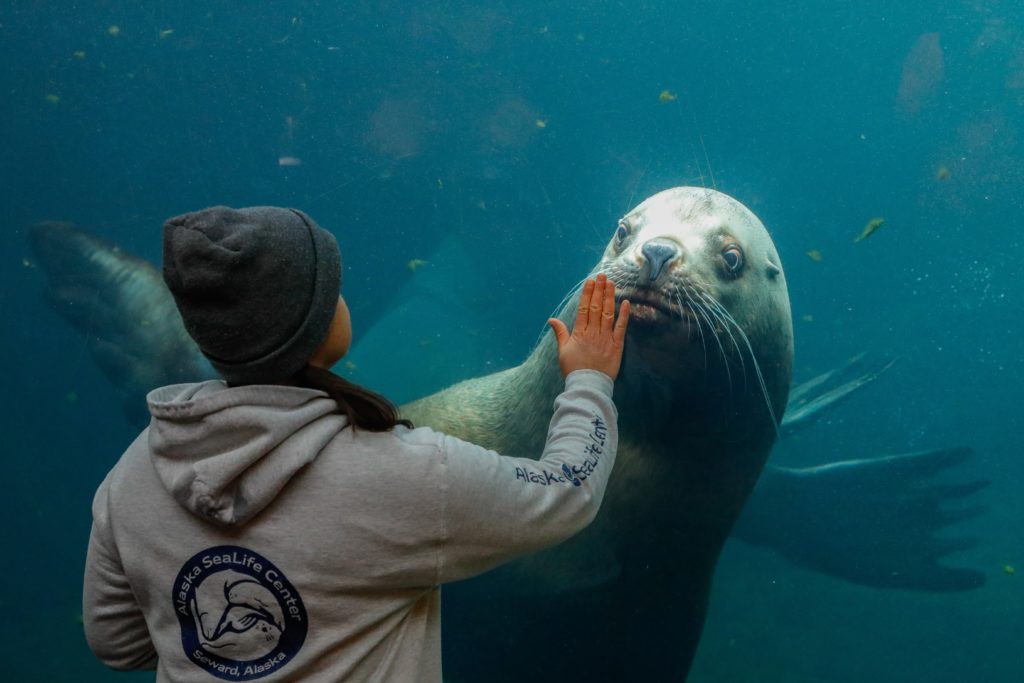 Our tourism neighbors need your support
Rafting on Fortymile River
As we headed into summer, my friends and I started looking at what we can do in Alaska this season to enjoy the outdoors and support the local economy at the same time. Over Memorial Day weekend, we started out with a rafting trip on the Fortymile River in the interior of Alaska with a group of family and friends. The trip took a lot of logistical planning with our large group and 465-mile trek each way. To break up the trip, we stayed at John and Jill Ruzniak's gorgeous Log Cabin Wilderness Lodge about 20 miles outside of Tok. They are normally booked up a year in advance with European travelers who have coordinated driving vacations in Alaska. Fast Eddy's, also in Tok, kept the crew fed as we traveled to and from Fortymile River. They had just opened back up the restaurant the week we arrived and were happy to have customers.
4th of July in Seldovia
Next up is Seldovia. It's been several years since I've been to Seldovia for the 4th of July, but my friend invited us to stay at her parent's house, perfectly located on the slough downtown. Seldovia is known for its 4th of July activities and I expect that though it will be different this year with COVID-19 restrictions, it will still be a worthwhile trip. Seldovia is across the Kachemak Bay from Homer and can be accessed only by boat or plane. We'll be arriving by the Seldovia Ferry where we can bring our bikes for transportation. Among the 4th of July activities will be a parade, blueberry pancake breakfast, salmon toss, rubber ducky race and the 5K salmon shuffle. As they say in Seldovia, you "otter be there".
Denali National Park
One thing I have always wanted to do, but have never done because of out-of-state travelers, is visit Denali National Park. This year is a once-in-a-lifetime chance to explore one of Alaska's most famous attractions with a lottery system opening up spots two weeks out that will allow us to drive in with private vehicles to Teklanika (mile marker 30) or Eielson (mile marker 60).  This is the year for Alaskans to score a vehicle pass to drive in and explore the many day hikes available. I am researching maps and looking up hikes to do from the visitor's center and inside the park. We have the unique opportunity to camp inside the park with our passes which makes it much easier than solely backpacking.
Sitka Fishing Trip
Last year, on a whim, I bid on a fishing trip outside of Sitka at a fundraising auction for AWAIC at the Baranof Wilderness Lodge. The lodges have been hit hard with COVID-19 travel restrictions and forcing the cancellations of their Lower 48 guests. Many have delayed opening or are choosing not to open at all this year. I reached out to the hosts last week to try to make sure they are still opening and heard back that they are following the latest lifting of travel restrictions. The hosts conveyed they had to cancel all their rafting trips to western Alaska but are looking forward to opening up their Sitka lodge in the coming weeks. They have made a number of modifications in how they serve guests and have always had a good venue for spatial distribution.
Clean Air Challenge
My summer is set to culminate with a 100-mile bike ride in the Clean Air Challenge raising funds for the American Lung Association. This ride was set for May but was rescheduled for September and we hope that it will be able to continue. I have been riding my bike on every sunny day gaining the strength and endurance for a successful ride. GCI is supporting the event and growing our team of riders. It starts and ends at the Talkeetna Alaska Lodge and the path is along the road to Denali and is well supported with rest stops along the way.
You may have your own adventures planned within the state this summer, or perhaps my list will inspire you to get out and support the local economy. If you'd like to learn more about the Show Up For Alaska campaign or find other travel experiences across our beautiful state, follow along with GCI's "Wander AK Wednesdays" blog series, where we'll be highlighting all of these businesses and more to help our fellow Alaskans. As we all make our way towards a new normal, it is important that we always care of our fellow Alaskan businesses.