TJ Young was raised in Hydaburg, Alaska. It was here that he carved his first totem pole, as a tribute to his late grandmother, years after his grandfather first taught him how to hand carve halibut hooks. TJ cites his grandfather as a major influence in his life and artistic development. As one of few people in the community whose first language was Haida, he introduced TJ to Haida language, art, and culture.
After years of study and practice, TJ has now crafted dozens of totems and canoes, and considers it an honor to carry on the traditions of his ancestors. TJ's carvings have a strong presence on Prince of Whales Island and can also be found in galleries and private collections from The Alaska Native Heritage Center to Florida.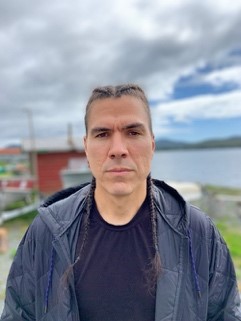 This totem was purchased by GCI at a charitable auction and carved by TJ and Joe Young to tell the story of GCI's relationship with the state of Alaska and all the communities that it is proud to provide service to.
Download this photo of the totem for free, for use as a wallpaper on your mobile device or desktop monitor.
The salmon (Chiin) on the top represents our Alaska's future, our youth, following in the path of ancestors and returning to do great things for our state. The Raven (Yáahl) in the middle symbolizes the creation, transformation, and adaptation. The Eagle (Ts'áak') at the base portrays prestige and wisdom as Alaska moves into the future. These Haida clan symbols were chosen for GCI because the animals they represent range throughout Alaska and are recognized and respected by all Alaskans. Each symbol on this totem as carved interconnectedly, to depict them working together in unity to achieve success. Just as the roots of all Haida people are intertwined and tangled like the roots of trees, this pole represents the interconnection created by GCI throughout Alaska.
How do you share your art with the community and help keep this piece of your Haida culture alive?
In Hydaburg, right in the center of town, there is a gathering place for the community where we carve. We actually call it a healing center. People just come through and talk and visit, listen to music, eat, and gather while we work. I usually have three or four apprentices helping out in the summers, who are interested in studying the art and carrying on the tradition. Most of my work is displayed in Hydaburg, like my first and favorite piece, which my brother Joe and I carved as a gift in honor of our grandma who passed away in 1997. It has her crest on it — a beaver with an eagle on the tail and a watchman on top to represent my grandfather looking out at the ocean.
How did you get your start at carving?
My grandfather used to hand-carve halibut hooks and hang them on the walls. One day when we were fishing, he caught a couple hundred-pound halibut and I went to pull the hook out of its mouth and realized it was one of his — they weren't just wall hangings! That was a profound moment for me. I wanted to learn, and he taught me. He also introduced me and my brothers to Haida art, language, and traditions, which were outlawed years before. So, passing on this knowledge is critical to keeping Haida culture alive.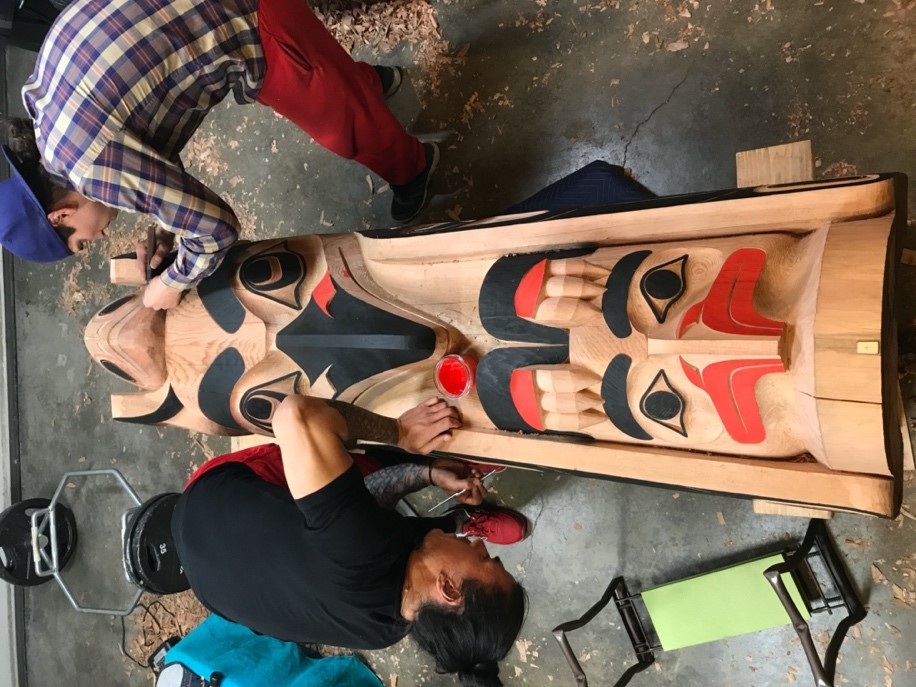 How do you raise a totem pole?
Depending on how tall it is, it can take a lot of people working together to lift a totem pole into place. It takes about a hundred people working together, tying ropes on the pole and pulling in each direction, working to balance and stand the pole up. You want the stronger people at the base for stability because these logs are a couple tons. It's pretty nerve-wrecking at times but I've never seen a failed attempt. Traditionally, about 6-foot deep holes were dug in the ground and the pole was placed in there but for about the last 80 or 90 years we've been standing the totem up against a telephone pole because the wood is becoming harder and harder to come by and we can't sacrifice six feet to the foundation.
What kind of wood do you use for carving?
Red cedar! Always red cedar. It's the biggest and best for carving and the natural oils in the wood preserve itself. They take about 400 years to mature though and most of the remaining red cedar is on federal land, so we can look at it, but we can't touch. It can take years to secure a log.
What else do you enjoy carving?
I've been kind of obsessed with canoes lately. I'd like to work on more of them for the next couple of years. They used to be about 70 ft long and 8 or 9 feet wide, dug out from a single log and we used to travel with 50 or 60 people down to California in these big canoes. I've been fortunate to be able to carve a couple dugout canoes but since the large cedar logs are so hard to come by, we'll need to move to making cedar plank canoes now, molded after our dugout canoes.
What's next for you?
I'm going to keep carving. I have a lot to learn, still. I'm 39 but I'm nowhere near a master carver. I've been fortunate enough to study under some of the best but I'm still a student myself. Like I said, canoes are my current obsession so I'm going to tackle that challenge for now and continue spreading the art and traditions of my culture.