This story, written by Amy Miller on behalf of U.S. Fish & Wildlife Alaska, originally appeared on Medium. GCI is a major supporter of the Arctic Youth Ambassadors program.
In the summer of 2013, Reth Duir was struggling. His older brother was murdered in an Anchorage alley the year before, and in the gaping hole left by that tragedy, he was searching for a way to find peace — to make sense of what had happened and find a way to connect to Anchorage and Alaska, which had in many ways been so cruel.
The son of refugees from South Sudan, Duir is part of a small Sudanese immigrant community in Anchorage. His high school experience here wasn't great. He didn't feel like he fit in and spent too much time, by his own account, "living through everyone else's lens" on social media.
But that summer he got a job on a restoration crew with Alaska Geographic and the Chugach National Forest, and began to spend time in nature, helping others and finding peace in the silence.
"I used (the outdoors) as a way of healing," Duir said. "Just to get time to myself, and in a team-building environment … making meals together, moving kayaks together. It made me more interested in what else is out there in Alaska and made me want to explore more."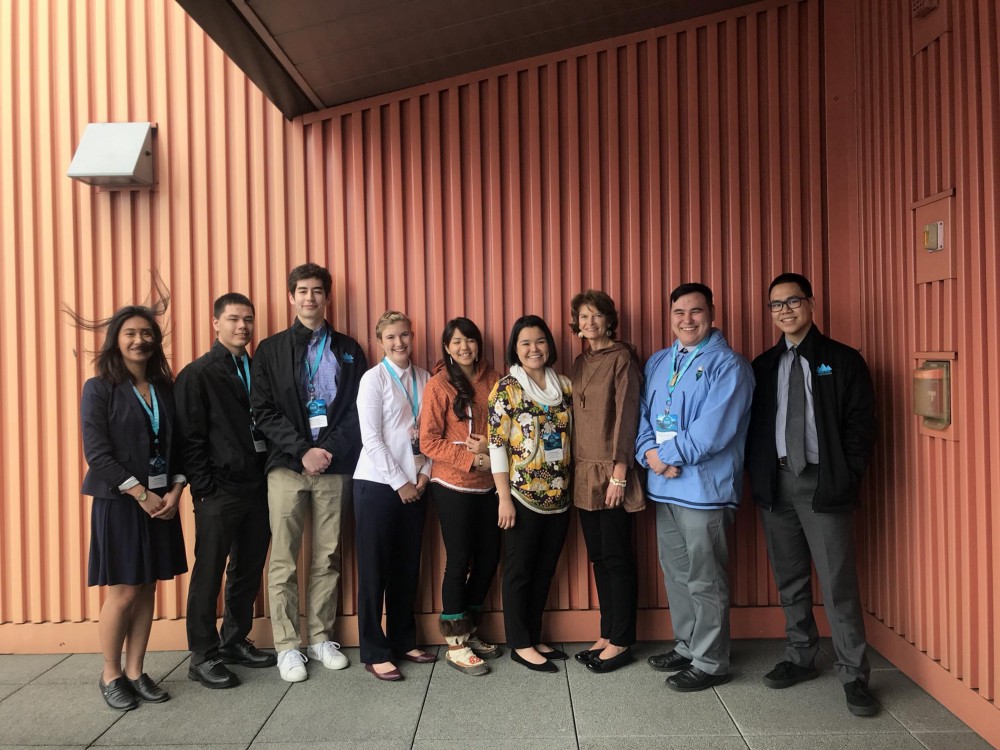 At the encouragement of contacts at Alaska Geographic, he applied for the Arctic Youth Ambassadors program and was selected for its inaugural cohort.
The Arctic Youth Ambassador program, a collaboration between the U.S. Fish and Wildlife Service and nonprofit partner Alaska Geographic, is a training and leadership development program for young Alaskans. Initiated to coincide with the U.S. position as chair of the Arctic Council from 2015–2017, the program was conceived as a way to develop the next generation of leaders and raise awareness of life in Alaska's Arctic region.
"What drew me to it initially was the opportunity to use it as a platform to raise awareness about the issues in the Arctic, locally, nationally and internationally," Duir said. "And to develop my leadership skills and get support and mentorship to help amplify my voice."
His first name, Reth, means "drought" in Nuer, the language spoken in war-torn South Sudan. He says environmental policy work feels like his destiny. But as he met the other young people in the Arctic Youth Ambassadors program and started hearing their stories, the common thread he found became displacement.
"I absolutely identify with rural Alaskans," Duir explained. "Much of the similarity has to do with having to leave a place you called home for generations — especially for communities like Shishmaref, Newtok, Kivalina. They're being forced to relocate (because of coastal erosion). That's definitely something that strikes closely with me. My family was also forced to relocate, even though it was for different reasons."
Two cohorts of ambassadors have completed the program so far, with the second ending this spring and recruitment for the next actively underway. The course and content of each cohort — and each ambassador's experience — has varied based on personal, academic and career interests. Some herded reindeer in Norway and participated in the Arctic Frontiers Conference in Tromso. Others traveled to Washington, D.C., and met with the nation's most senior Arctic policymakers and scientists. The first cohort actively participated in Arctic Council meetings in Alaska and abroad as the U.S. led the group for that two-year period. All have traveled extensively within Alaska, met with Arctic leaders and expanded their networks of contacts among young people and established leaders.
"The Arctic is a remarkable place, and our ambassadors are personally familiar with the communities, cultures, and environments that define it," said Greg Siekaniec, Regional Director for the U.S. Fish and Wildlife Service in Alaska. "We need their life experiences and cultural perspectives as we work with their communities and others to conserve some of the most unique lands and animals in the world — caribou, walrus, polar bears, and countless migratory birds and fish. "
No matter where their lives have taken them since starting the program, all the ambassadors described being deeply impacted by the experience. For some, it has been life transforming.
"I probably wouldn't have gotten into Harvard if it weren't for this program," said Brian Conwell, a graduate of Unalaska City High School and current Harvard freshman. There is no "international relations"-type major at Harvard, Conwell explained, but his exposure to diplomats and policymakers from around the world in the Arctic Youth Ambassadors program is leading him toward a major in East Asian studies and a globally focused career, possibly in law.
For others, the impact has been more local. Many said the experience helped bridge the significant urban-rural divide in Alaska, especially for those from urban areas. All of the ambassadors travel to rural communities to gain a greater appreciation for how Arctic issues are impacting people and culture.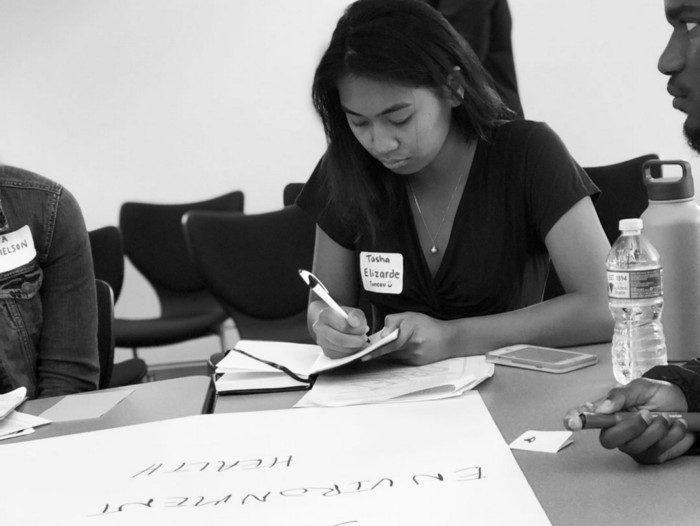 Tasha Elizarde is originally from Juneau, more than 500 miles south of the Arctic Circle. Climate and the environment are longstanding interests of Elizarde's, but the ambassadorship added an important new dimension to her work.
"The pull of environmental issues (for me) isn't the environment itself but how people are being impacted in an unequal way," Elizarde explained. Now a freshman at Mount Holyoke College in Massachusetts, she's majoring in history and economics and is the vice chair of the newly formed Arctic Youth Network, an international group of young people working on Arctic policy issues.
Many current and former ambassadors aspire to make a contribution through public service in Alaska.
Esau Sinnok is an Alaska Native Studies major at the University of Alaska Fairbanks. He's currently taking distance courses from Anchorage while completing a summer internship with Bering Straits Native Corporation, but his hometown of Shishmaref serves as a primary source of inspiration for his work. Shishmaref is an Inupiaq village of about 500 people on Sarichef Island, about five miles off the mainland and 123 miles north of Nome.
Like many ambassadors of Alaska Native heritage, Sinnok's interest in the program is urgent and personal. His community is actively discussing options for relocating because winter storms are getting worse each year, gnawing away at the land and taking homes with them. He describes a strong motivation to give back to Shishmaref and its people because of the love and support he has received growing up there. And as his network of caring and supportive people — fellow ambassadors and mentors — expanded through the Arctic Youth Ambassador experience, so did the circle of those to whom he feels indebted.
"I want to be there for my community, my people, my region, but also for the entire state of Alaska, because I love my home. I love Alaska. I want to do everything in my capacity so I can help people today, tomorrow and the next generation to come because all these great people have given me so much," Sinnok said.
Like others from rural communities, Sinnok describes a dramatic shift in his community's subsistence practices and the risk involved in hunting and fishing as climate patterns shift. Around Sarichef Island, the ice on the Bering Sea is taking longer and longer each winter to freeze solid, making it unsafe to travel and reducing opportunities to practice subsistence.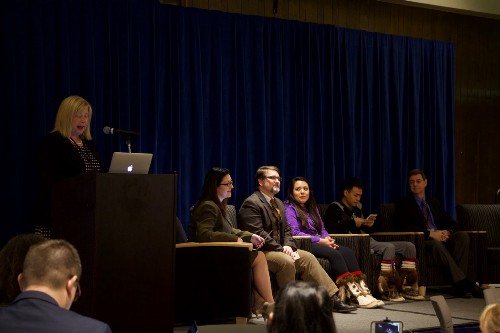 Program sponsors like GCI have made the program possible through ongoing financial support, assistance with the high cost of travel for youth from remote Alaskan communities, and involving youth ambassadors in real-world issues like sustainable economic development and broadband connectivity. Pam Lloyd is Vice President of Corporate Strategy for GCI in the areas of government, education and health care. As Alaska's largest telecommunications provider that serves 240 communities statewide, GCI has a vested interest in developing the state's next generation of leaders, Lloyd explained. Lloyd is also one of the partners who has recognized the value of local youth perspectives in understanding and addressing big challenges in the Arctic.
"(The program) provides them with perspectives on a very global level," Lloyd said, noting that she also attended the Arctic Frontiers Conference in Tromso, Norway, this year, and was impressed with the contributions made by Arctic Youth Ambassadors at the gathering. "It empowers them to have a platform, and helps them deliver their platform in a variety of different mediums."
Lloyd says the program is well worth the support of other Alaska corporations. "The youth that are accepted into the Arctic Youth Ambassadors are the next generation of leaders in our state — and not only in our state, but they're going to lead in a very global way. I feel supporting them is an important piece in growing our economy."
Amy Miller is a freelance writer who was born and raised in Fairbanks and has lived in Anchorage, Juneau and Valdez.