Last month I had the pleasure of hosting a panel on next generation satellite connectivity. We talked about everything from LEOs and GEOs, to middle mile, to how connectivity in Alaska has changed. We were fortunate to have Christine O'Connor, the Executive Director of the Alaska Telecom Association as one of our panelists.
Christine's roots in rural Alaska give her a deep commitment to bringing service to Alaskans as well as an appreciation of the challenges remote location, extreme climate, and high costs bring. We are always impressed with her expertise and her ability to explain complex ideas so they are understandable and make sense. Her presentation last month was no exception. I'm excited to share it here, for an expanded audience.
The presentation below has been edited lightly for length and clarity.
My name is Christine O'Connor and I am the Executive Director at Alaska Telecom Association. I'd just like to give you a brief overview of the state of broadband in Alaska, with broadband being top of mind in so many venues right now. To do that, I'll take a look at our statewide networks and especially focus on middle mile. I'll talk about how satellites and other technologies fit in today and potentially tomorrow. And I'll also look at the potential for even more expansion of broadband. But first, a quick overview of ATA. ATA was formed in 1949 and has been supporting our member companies and connecting Alaskans ever since. Its members are the Alaska based companies providing landline wireless and broadband services throughout Alaska.
Last Mile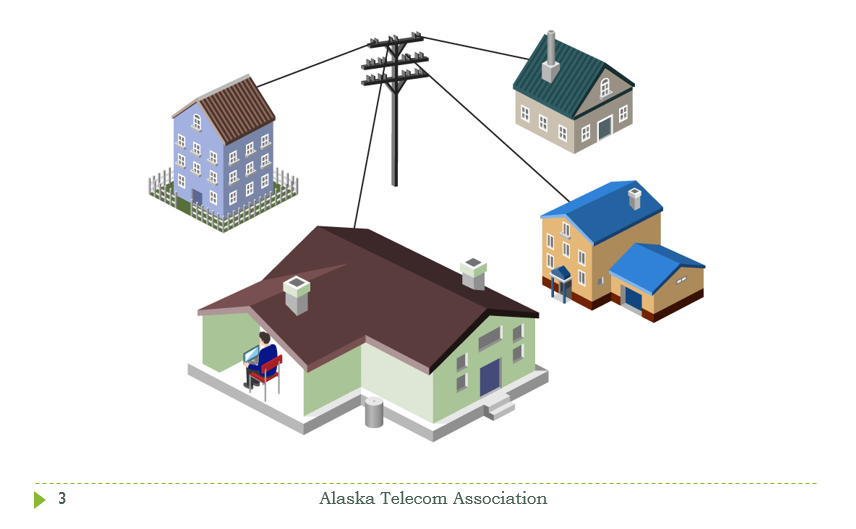 So let's talk at a high level about broadband networks. I plan to talk in broad concepts today. For the technical folks on here, thank you for your patience.
At the most simple level, Alaska's networks are in two chunks, last mile and middle mile. The last mile network connects your home, business, school, and health clinic to the broadband provider. The connections might be on poles like in this sketch [above] or buried. They might be copper, coax, fiber, or wireless.
Middle Mile: Fiber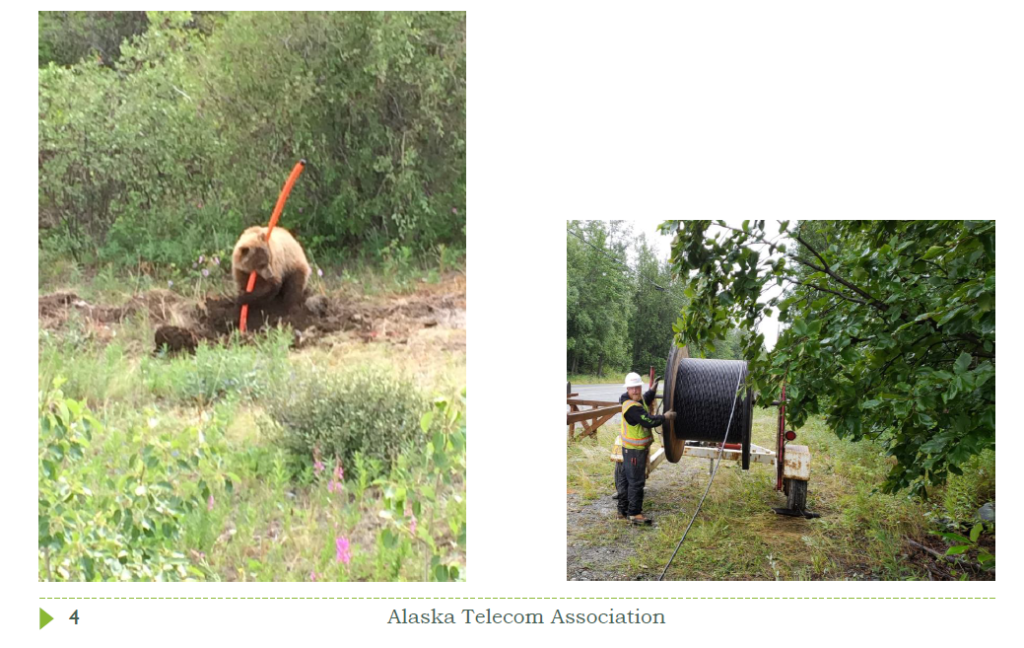 But that last mile connection to your house or business isn't enough to get to the Internet. You also need to connect to the world. You need middle mile. And Alaska's middle mile is a combination of technologies. We have thousands of miles of fiber of middle mile. Fiber is the gold standard. It allows huge capacity and very fast speeds where possible. Fiber is the way to go, where possible. But it hasn't always been possible to build fiber.
Middle Mile: Microwave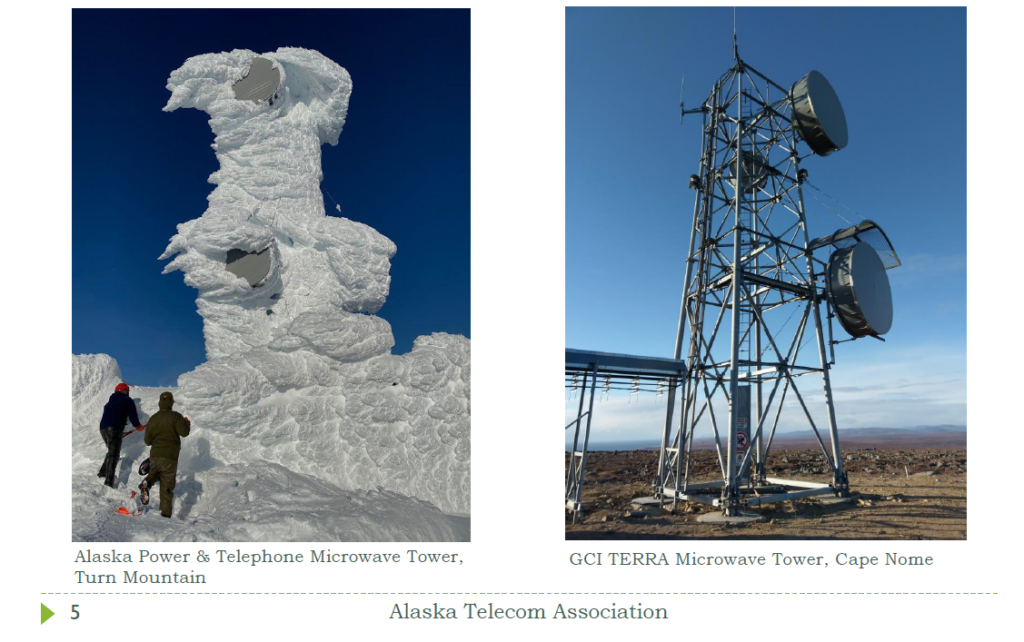 Fortunately for us, Alaska has microwave networks extending hundreds of miles. These microwave networks allow delivery of high-speed broadband and have been transformational in huge parts of Alaska. And where there is no fiber or microwave connection, satellites provide that backhaul today. We are unique here in Alaska in our middle mile situation compared to the lower 48, our counterparts outside rarely need to consider how they will get a middle mile connection or even how much it will cost. They have nearly ubiquitous access to fiber, backbone connections. It's just a non-issue in many cases down south.
Middle Mile: Satellite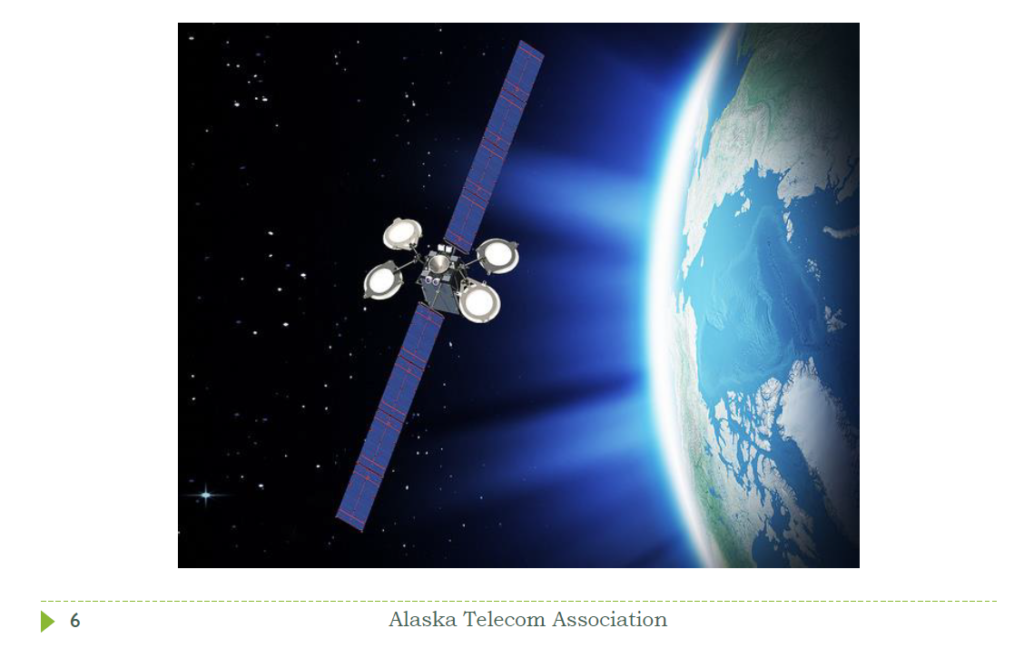 But in Alaska, we still have large gaps where the only middle mile connection is through satellites, which are much more limited in capacity, have latency at this point, and can suffer from interference.
Middle Mile: Then and Now
But, things are changing rapidly for middle mile networks in Alaska. This was the middle mile network in 2010. You can see the undersea cables connecting to the lower 48 and the beginnings of the TERRA network in western Alaska. And all those black dots are locations served solely with satellites.
Jump ahead to 2020 and you see a dramatic change. In recent years, there has been massive investment in middle mile. There's new connectivity along the northern coast, expansion of microwave networks in southwest, northwest and southeast Alaska. There's new fiber running up the Dalton Highway and the first ever terrestrial and subsea links into Canada.
Recent new middle mile projects include Alaska Power Telephone, constructed an undersea cable between Juneau, Haines and Scagway and is doubling the capacity of their microwave network between Juneau and Ketchikan. Cordova Telecom expanded their microwave network in Prince William Sound.
New Middle Mile
GCI completed a multiyear upgrade to equipment at 40 microwave sites in western Alaska. Increasing capacity KPU completed KetchCan 1, the first undersea connection to Canada, MTA constructed there. Alcan One project, the first terrestrial connection into Canada. Nushagak Cooperative completed a major expansion of their microwave network. I'll stop the laundry list there, but I wanted to give you a sense of the tremendous level of activity underway. Its investment like this that has resulted in nearly 80 percent of Alaskans having access to at least 100 megabit speeds, all fed by our expanding middle mile networks.
There are still gaps, but every year, link by link, Alaska's telecom providers are closing those gaps.
Low Earth Orbit Satellites: LEOs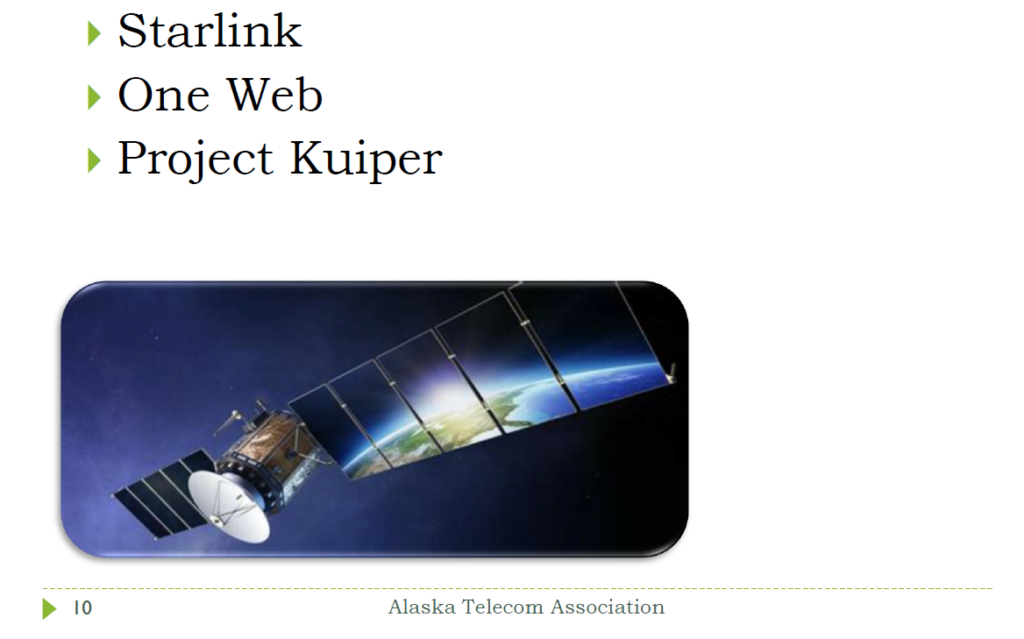 Coming soon in the middle mile space is a new generation of satellites, the LEOs. Starlink has launched nearly 1,000 satellites and they're beta testing their better than nothing service in the Lower '48 so far. OneWeb launched 74 satellites and are now emerging from bankruptcy with new ownership and plans to restart satellite production.
Amazon's project Kuiper plans a constellation of 3,000 satellites and there are other constellations being planned. It's a real space rush right now. But there are still big questions out there, how exactly can this technology help connect Alaskan's, and what's the timeline? How much capacity will be available over Alaska? What's the expected lifespan? Are these constellations sustainable? And what will it cost?
LEOs are likely to be game changers in connecting remote Alaska communities. And all of us in the telecom industry are eagerly watching their progress and talking with these companies.
What's Next?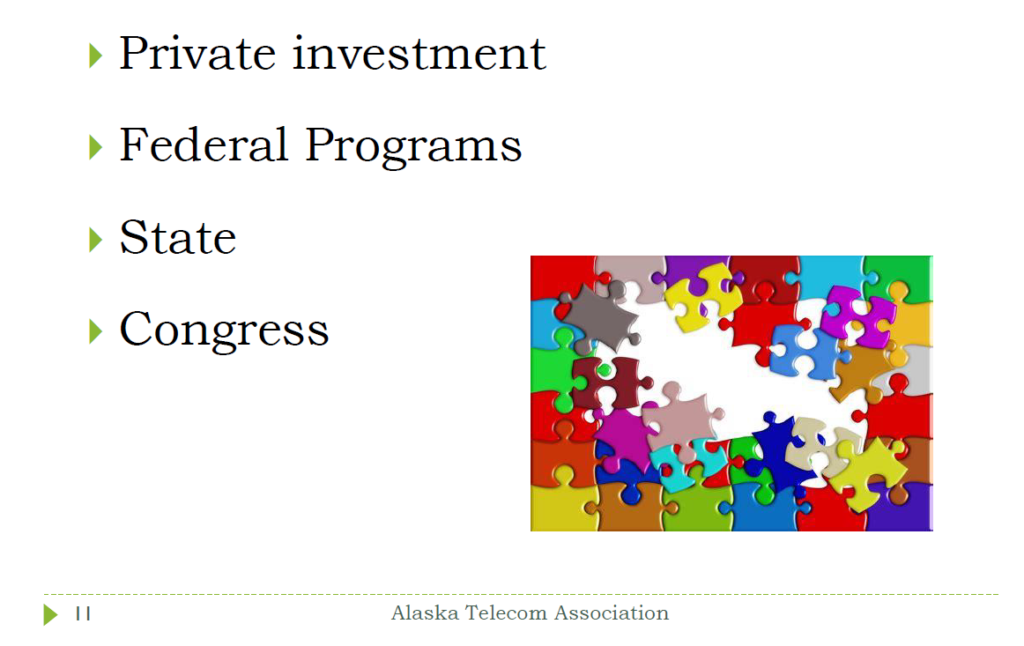 But despite tremendous progress and the potential of LEOs, we're not done building Alaska's broadband networks. How do we accomplish ubiquitous sustainable broadband networks for all Alaska? How do we put the pieces together for the most massive investment needed to serve our remote communities, including those with the smallest populations? It's a complex puzzle, but we are seeing how some of the pieces are working together powerfully right now.
First, investment from Alaska's telecom community. Every company in Alaska has been investing heavily in broadband networks for decades now. In just the past four years, ATA member companies have spent over 1.2 billion dollars on capex alone. Second, it's critical we have stable, predictable programs at the federal level, very often federal programs bring that critical missing piece that makes a project viable and without which broadband expansion cannot happen. When federal programs adopt stable rules paired with requirements to deploy broadband, that is exactly what happens.
Participants in these programs have been able to deploy an impressive amount of broadband capacity in just the last couple of years. The state has a role too – since 2010, the Alaska Universal Service Fund has been helping support telecom networks across Alaska. And Congress has a role and is talking a lot about broadband right now.
Reconnect Pilot Program
USDA is making a big splash with their reconnect program. Reconnect began in 2019 with a mandate to fast track broadband grants. This federal program is bringing that missing puzzle piece to make major infrastructure projects viable. The first round of awards was made last fall, and Cordova Telecom was awarded a major grant to connect Yakutat via a new microwave route and fiber to the home connections.
So far this fall and round two USDA has announced five awards for Alaska projects. Alaska Power and Telephone will build a new subsea cable between Juneau, Petersburgh and Prince of Wales Island. GCI will build an 800-mile subsea fiber system from Kodiak along the south side of the Alaska Peninsula and the Aleutians to Unalaska. Coming ashore at five communities along the way, Astatke will build a microwave connection to Kaktovik, TelAlaska will build fiber connections from Nome to Teller and Brevig Mission, and MTA will build fiber to the home to hundreds of locations near Caswell.
These are absolutely transformational projects, the application process is rigorous and expensive, and these awards are a testament to the commitment of these companies. The Reconnect program itself is a powerful example of what can happen when a new program aligns with existing state and federal programs and creates a springboard for great advances in our broadband infrastructure. It's the missing puzzle piece that is turning a need for connectivity into real projects that connect Alaskans.
Broadband in Congress
We are hopeful that there will be a reconnect round three next year to keep the momentum going. And lastly, there's renewed consistent focus on broadband in Congress. The current COVID-19 relief bill includes 10 billion dollars in broadband funding and earlier versions proposed 100 billion dollars, regardless of what legislation eventually proceeds. I'm optimistic that there will be an infusion of broadband funding from Congress.
And here I want to give a huge shout out to our congressional delegation. Senator Murkowski, Senator Sullivan, Congressman Young and their staff have been unceasing in their work to educate and persuade DC policymakers to take action and help us move the needle on broadband in Alaska. And we are seeing the results of their commitment. So, with that, thank you very much again for the invitation. Thank you for attending and for listening. It's my pleasure to talk to you today.