Solutions Built for Alaska
You may be asking yourself: is my current Internet service still suited to my business' needs? Or maybe: what kind of Internet do I need to start my business? When you first start out and have just two employees working out of a small garage, a commercial plan may suffice, but when your business goes through phases of growth so too should your network. As you expand, you need to continually assess your unique network needs and upgrade accordingly.
At GCI, we believe in providing the most appropriate solution to meet customer needs — whether that means a single business modem or a more complex DIA delivery. Our experienced account managers and solutions engineers can help you understand which solution is a good fit for your business today — and how to grow your network for the future.
Advanced Statewide Network
As a business born and raised in our great state of Alaska, we understand the various challenges of operating in this unique environment. When you work with GCI, you benefit from our decades of experience building network infrastructure to deliver services to our customers. Over the past 40 years, GCI has invested millions of dollars into constructing Alaska's largest and most robust statewide network, which includes more than 7,700 miles of fiber-optic cable.
Our AU-Aleutians and Airraq fiber projects, the latter pursued in partnership with Bethel Native Corporation, are prime examples of our commitment to providing terrestrial to every rural region of Alaska. We always strive to provide the best connectivity options for every customer, in every situation, and in every community in Alaska. Our statewide Fiber+ network enhances the speed and reliability of fiber with the advanced capabilities of our full network. With Fiber+, GCI has become the leader in 2 Gbps Internet and has been able to provide high-speed connectivity to some of the most remote communities in the country.
Your Network Options
GCI offers a wide range of network services, including Business Internet, Premium Business
Internet, DIA, and custom solutions that combine elements of the above. Most business
customers must balance speed, security, support, and efficiency when selecting the right plan. No matter your use case, we will work with you to craft the right solution for your business needs.
Business Internet
For Alaska's small to medium-sized businesses, GCI Business Internet is a fast, flexible solution that supports everyday business applications like email and point of sale and provides a foundation for long-term growth. GCI's Business Internet is powered by Alaska's most advanced network and provides high-speed broadband with asymmetric speeds up to 2 Gbps / 75 Mbps. This plan empowers you with the ability to scale your Internet service to align with your business needs.
Premium Business Internet
When your business grows beyond Business Internet and needs greater performance, Premium Business Internet may be the best choice. This solution provides an enhanced experience designed for performance with symmetrical bandwidth speeds and unlimited usage. Delivered over fiber, Premium Business Internet is available in two affordable options: 50/50 Mbps and 150/150 Mbps.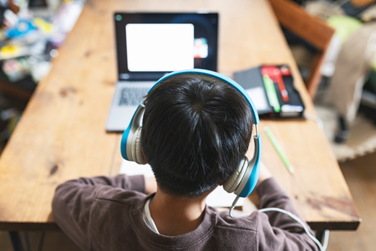 10 Questions Rural School Districts Should Ask Network Providers
Grow Your Business, Enhance Your Network
At GCI, delivering exceptional service means more than simply selecting a bandwidth level and plugging in a modem. It means working together to ensure your network can continue to support your business as it expands and succeeds. We often recommend that growing businesses supplement Business Internet with additional services as their organization becomes more complex. These additional services provide a variety of benefits, including enhanced security, data hosting, and custom solutions for projects.
Our additional services include:
• Managed Voice (Enterprise only)
• Managed Firewall
• Data Center and Colocation
Dedicated Internet Access (DIA)
Our DIA solution is a symmetric, low-latency service backed up by robust service level agreements (SLAs) for availability and packet loss. This means that your service is guaranteed and does not suffer from contention with traffic from residential neighbors or businesses. GCI's DIA services are delivered over a dedicated line, often via fiber-optic cable, and benefit from the closed loops built into GCI's core network for geographic redundancy. We back up our best-in-class technology with a 99.95% availability SLA, 24/7/365 customer support through the Business Technical Support team, and continuous monitoring of your network. Together, these services create a next-level experience for GCI's DIA customers.
Service Level Agreements (SLAs)
One of the key features of our terrestrial DIA service is our 99.95% availability SLA. This SLA guarantees high availability and performance so you can be assured that your operations are covered by the most advanced network in Alaska.
24/7/365 Customer Support
Our Business Technical Support technicians provide 24/7/365 support to DIA customers. Our technicians are empowered to be responsive and to own, track, and manage all incidents to resolution. Most support is provided from Anchorage facilities. If issues require, we can respond by:
• Shipping replacement equipment.
• Deploying technicians and engineers to your site.
Continuous Monitoring
When you select a DIA service, GCI provides a customer premise router that allows technicians to remotely monitor and manage delivery all the way to your premises. In the event of an issue, GCI will notify you (following the notification process jointly established between you and GCI at contract), and Business Technical Support staff will take steps to correct the problem.
IP Addresses and Routing
As part of our DIA service, GCI can assign you a routed block of IPv45 and/or IPv66 addresses, which can scale up or down and switch facilities as needed as your business continues to grow. Should you require any additional diversity or failover functionality, the routed IP blocks will help facilitate that scaling up of services.
As a vital member of Alaska's small business community, you deserve a technology partner who understands the complexities of working in Alaska and knows how to design solutions for every challenge Alaska businesses might face. We can help determine the right solutions for the situation.